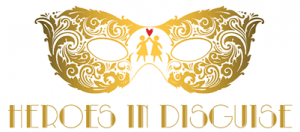 Heroes for Children is inviting attendees to step back in time at their Heroes in Disguise: The Great Gatsby Gala. The Texas nonprofit organization, which provides social and financial assistance to families with a child ages 0 to 22 battling cancer, announced Mandy Lu Ristow and Morgan Hallman are returning as the 2019 event chairs for the second annual gala, at Union Station in downtown Dallas Saturday, Sept. 28.
Guests will be greeted with live music, an open bar and passed hor's d' oeuvres while they peruse the donated items for the silent and live auctions. The evening's events also include a seated dinner catered by Wolfgang Puck, followed by live music by Inversion Band and dancing. There will be a 1920s-style casino with a high-roller area as well as a private high-stakes poker room. A VIP speakeasy, sponsored by Remy Cointreau, will be held in the upstairs first-class passenger lounge where a Louis XIII tasting will also be available for sponsors over the $10,000 level.
With a goal to engage 400 attendees and raise $250,000, this event could break records for Heroes for Children, enabling the organization to increase the social and financial assistance they provide to families battling childhood cancer across Texas.
"Heroes for Children directly touches the lives of families as they are going through the nightmare of childhood cancer and holds their hand with them every step of the way," said Hallman, who also sits on the Heroes for Children Advisory Board. "Volunteering with Heroes for Children is so rewarding, and meeting the families we serve really helps me put my own priorities back into perspective."
The organization helps Texas families keep their households running as normally as possible during their fight against childhood cancer, from paying utility bills to providing transportation assistance. The Texas nonprofit provides financial assistance to cover the gaps in unexpected expenses like lab tests for bone marrow matches or hearing aids for children whose treatment has left them deaf. Heroes for Children also assists in underwriting fertility preservation for pediatric cancer patients who have been prescribed radiation. They are the only agency in the state that provides funeral assistance when cancer treatment has failed.
When Ristow, who sits on the board of directors for Heroes for Children, was asked to serve once again as co-chair of the organization's second annual gala, she was shocked and honored. 
"Creating an event from scratch was no easy task, but we had so much fun working with the entire Heroes for Children team to make it successful," Ristow explained. "This year we wanted to challenge ourselves to make the event even bigger and better than it was in 2018, and I think we've succeeded! We can't wait to treat our supporters to a special and glamourous night right out of the 1920s."
The connection to Heroes for Children is a personal one for both Ristow and Hallman. Their best friend, Jo Trizila, who was diagnosed at 13 years-old with a brain abscess the treatment of which also caused her to develop aplastic anemia. Trizila survived thanks to a life-saving bone marrow transplant from her brother, and today sits on the Heroes for Children Board.
"My family has personally felt the struggle of battling pediatric cancer on their own," said Trizila, who is being recognized as the honorary chair at the nonprofit's annual gala. "It's hard to think about my family having to go through that without the support of an organization like Heroes for Children, which didn't exist when I was diagnosed. I am so honored to be a part of this organization and to have the opportunity to work on this event that helps us raise much-needed funds to ensure that no Texas family fights alone. Last year we provided assistance to over 500 families, and I'm excited to see that number grow with the community's generous support."
Financial assistance is only one of the areas where Heroes for Children assists Texas families battling childhood cancer. Because they understand that cancer impacts the whole family, the nonprofit also organizes events for families including movie days, dinners on Valentine's Day and private visits to local museums. These family-friendly events provide some much-needed respite from the hospital and re-introduce some normalcy amid what is often a very emotionally-draining battle against childhood cancer.
For more information about Heroes for Children and how they are able to accomplish their mission of ensuring no Texas family fights pediatric cancer alone, visit https://heroesforchildren.org.