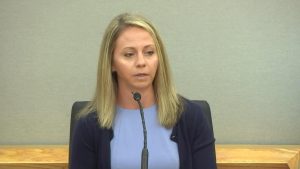 By: Ruth Ferguson, NDG Editor
At times stoic, sometimes remorseful, then suddenly bursting into tears, former Dallas Police Officier Amber Guyger, finally tells her side of the story. She described what she was doing before, during, and after she entered Botham Jean's apartment on September 6, 2018, and fatally shot him. 
After more than a year Guyger took the stand on Friday in an attempt to influence the jury who will decide her fate. Her task was to convince the jury it was an unfortunate mistake on her part but not worthy of a murder conviction. She consistently, virtually from the beginning as displayed by the 9-1-1 call, has maintained she thought he was an intruder in her apartment. Guyger claims she shouted to him to show his hands. According to her, Jean's response was to move forward and yell, "Hey! Hey! Hey!" in what she described as an aggressive voice. 
"I hate that I have to live with this and ask God for forgiveness, and I hate myself every single day," a sobbing Guyger told the jury.
At times she was effective in her remorse. But the lead prosecutor, Jason Hermus, did not allow her to play the victim card for long by shooting holes in the suggestion her behavior was appropriate. 
Hermus pointed to her training and resources available has possible tools at her disposal to avoid this tragic event. For example, why would she enter her apartment if she noticed the door was ajar and thought an intruder was inside? Why would she not follow her training and use her radio to request assistance and take a cover position waiting for help?
He spent several minutes discussing what type of first aid did she offer, dismissing her claims of not knowing CPR. He repeatedly questioned her until she acknowledged as a police officer receive CPR training which she did complete. The question came up about the fact there was no blood on her body, clothes, or shoes. Hermus also drilled Guyger on how she seemed more preoccupied with getting the apartment number for the 9-1-1 operator. Also, during the call, Guyger stated nearly 20 times she thought she was in her apartment. She did not take the time to utilize the bandages in the first aid kit she was carrying. 
According to Guyger, "It didn't cross my mind." 
The video showed fellow arriving on the scene to support Guyger. Then suddenly, the on-the-scene cop was seen pulling her away and putting Guyger in a squad car. Guyger's response was to ask the female officer if she needed to leave the camera running. Guyger is seen exiting the vehicle at one point, and several times using her phone, perhaps texting. Including when Jean's body was wheeled by because she admitted not wanting to see him. 
Hermus also shot down Guyger's attempt to take high moral ground for ending her sexual relationship with her married partner Officer Martin Riveria. He gained her admission the sexting continued that evening and even a couple of days after the death of Jean. 
How sympathetic a witness Guyger was will remain unknown until the jury reaches a verdict.