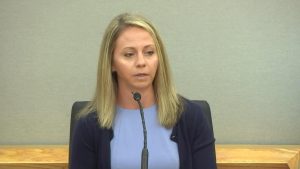 By: Ruth Ferguson, NDG Editor
The press has shared information and viewpoints, and the public has vigorously debated the tragic shooting of Botham Jean on September 6, 2018. Now, the witnesses have spoken as the lawyers presented their case. At this point, a little more than a year later, the future of Amber Guyger will be determined by the members of the jury following seven days of testimony and evidence.
Will they agree with Dallas County prosecutor Jason Fine that a guilty verdict is not an indication they personally hate the police? Do they believe and the actions of the ex-Dallas police officer was "unreasonable" when she entered an innocent man's apartment and killed him?
Or will the jury accept defense attorney Toby Shook's version of events, calling it "A horrible, horrible tragedy." Was the jury moved by an emotional Guyger's testimony on Friday?
"I hate that I have to live with this every single day of my life and I ask God for forgiveness, and I hate myself every single day," Guyger testified.
According to the instructions from District Judge Tammy Kemp, the jury has two options: murder or manslaughter. A murder conviction requires their belief that the evidence and testimony prove Guyger "intentionally or knowingly" killed Jean. Manslaughter, the lesser charge, has a standard that she "recklessly" caused his death.