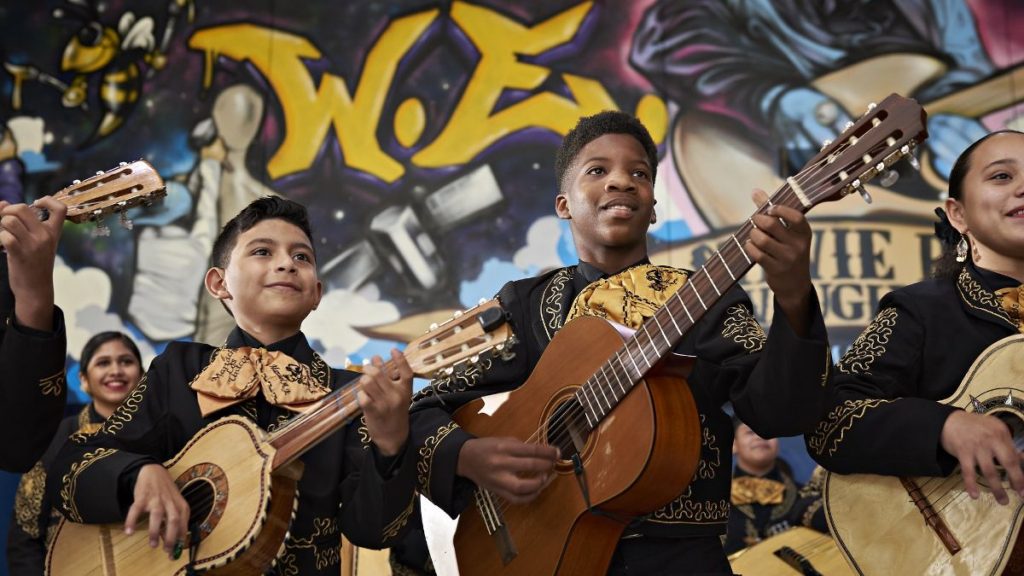 Dallas ISD students of all races have an opportunity to learn more about the culture of others through the district's artistic programs (Courtesy photo)
Leah Longoria Huggins ran into a professional challenge when she started teaching dance at Sunset High School.
The recently-hired dance director opened the costume closet on her first day in 2010. She was shocked to find only Baile Folklórico costumes.
"It terrified me because I did not know anything about Baile Folklórico," she said. "I knew that the kids must have done Baile Folklórico and that it was important here at the school. In order to teach them and to feel confident in bringing this program up, I needed to take lessons."
She spent a year learning techniques, skirt-work, and even the cultural and regional background of this traditional Mexican dance. Today, Baile Folklórico (also known as Folkloric Dance) is part of the curriculum in all Dallas ISD's dance programs.
"We're putting Baile Folklorico in a platform that is on the same plane as Ballet and Modern," said Dallas ISD Director of Theatre and Dance Rachel Harrah. "Our consistent goal is to ensure that every student dancer receives exemplary dance training, no matter the genre or discipline, in order to have the option to pursue their passion in a college or career setting. In fact, we have several alumni who have received full-ride scholarships to attend college because of their involvement in the Sunset Folklorico Dance Company."
Harrah sat in the audience during one Sunset Dance Company Spring Dance Concert. She fondly remembers talking to a parent who was born in Mexico and hadn't seen Baile Folklórico since she was a little girl.
"When we connect with our students and we connect with our parents, all of a sudden it becomes this welcoming environment where their experiences in their lives have value and meaning," said Harrah. "It's very important that we always reiterate to our community, and to our students and to our teachers, that who they are and what they love is valuable and meaningful and absolutely has a vital seat at the table."
Juan Tapia is a senior who is currently taking classes with Sunset Dance Company. He's met his best friends in the class and says that he's always challenged to do his best. Most importantly, Tapia has been able to discover a part of his cultural identity through dance, he said.
"I was born here. I don't go to Mexico frequently and my parents don't tell me much about where they're from," he said. "Dancing Baile Folklórico allows me to learn more about Mexico and about my cultural roots."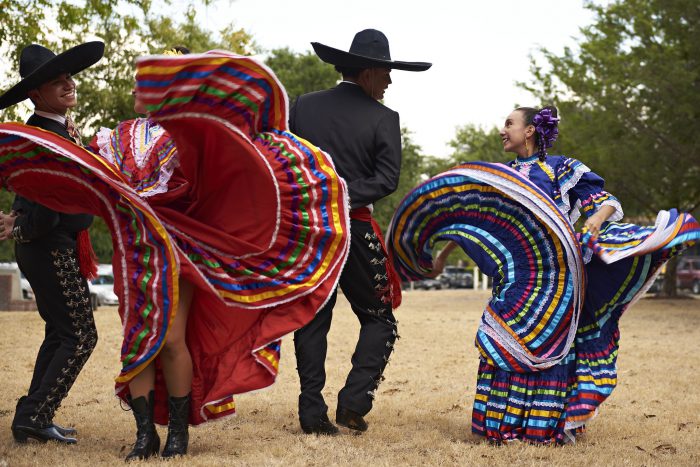 Mariachi introduces students to foreign traditions
Like Longoria Huggins, Maria "Lupe" Vargas-Garcia found inspiration from forgotten items in a storage closet.
She has taught music at W.E. Greiner Exploratory Arts Academy for the last 11 years. Vargas-Garcia graduated from Greiner and vaguely remembers the existence of a mariachi program during her middle school days. She found old guitarrones and vihuelas in a closet in 2009, which prompted her to launch a student Mariachi ensemble.
What started as a weekly extracurricular school activity quickly turned into a bi-weekly practice. Soon after, Vargas-Garcia had too many students enrolled in the program. The campus principal approved for the Mariachi program to become a class, and "Mariachi Los Únicos" was born.
"As far as the name, it means 'the only ones' in English," she said. "That's our name, because we were the only middle school mariachi in Dallas ISD back then and we're really proud of that."
Many of the students of Los Únicos are also in Academy Yellow Jacket Orchestra, which Vargas-Garcia also directs. This encourages students, who wouldn't traditionally know Mexican music, to join their friends in this 40-plus member ensemble.
"Ms. Vargas-Garcia has created a special program in the Dallas ISD," said Dallas ISD Director of Instrumental Music Dimas Delgado. "Mariachi Los Únicos not only gives the students an extremely valuable cultural experience, but the dedication and hard work they learn serves them in so many areas of achievement."
Ronald Anthony III has been playing guitar since he was 7. His older brother used to play piano at Greiner's orchestra and recommended him to join the program. He is currently in the seventh-grade and wants to be a professional musician after graduation. He plays guitar for Los Únicos. And while Spanish isn't his first language, he's learned how to sing the choruses.

"Mariachi helps the students learn more about our culture. But not just learn about it. It includes them," Vargas-Garcia said. "They feel part of a family, especially because all the kids treat each other like brothers and sisters. We do quinceañeras and weddings, when in their culture, they'd probably do Sweet Sixteens. They get to learn all of our traditions and what we have and do at the parties. When they invite them to eat, they eat and see the kind of food that they're served. It changes their outlook of the Hispanic culture."