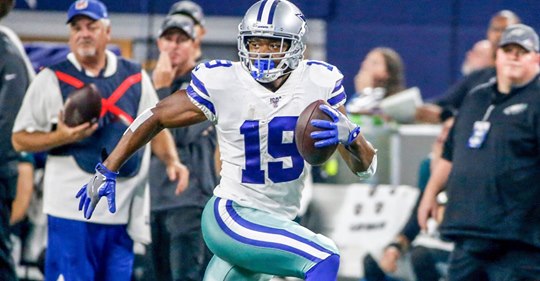 By Dwain Price, NDG Sports
ARLINGTON – During the days leading up to the fight for first place in the NFC East, Philadelphia Eagles coach Doug Pederson boldly guaranteed that his team would fly to North Texas and defeat the Dallas Cowboys.
Needless to say, Pederson got that prediction all wrong. In fact, he wasn't even close, meaning he may want to stay out of the prognostication business.
The Cowboys broke out to a quick 14-0 lead about seven minutes into Sunday's game and proceeded to rout Pederson's hapless Eagles, 37-10, before a sellout and boisterous crowd of 91,212 at AT&T Stadium. In the process, the Cowboys snapped a three-game losing streak and are now in sole possession of the first place in the NFC East with a 4-3 record, while Philadelphia slipped to 3-4.
In the aftermath of the Eagles getting their wings completely torn off by the Cowboys, Pederson admitted his prediction didn't go the way he thought it would.
"I thought the guys were preparing themselves to come down here and (win)," he said. "Give Dallas credit. They had a great game plan. They flat out beat us."
Pederson added that he didn't regret going out on a limb and doing a false impersonation of Nostradamus.
"I just felt like we had a lot of confidence in the football team," he said. "A lot of trust, a lot of faith in the guys. We had a good week of preparation. Quite honestly, after a game like this, we all have to kind of step back and look in the mirror. Especially myself. It starts with me.
"This is one of those games that I take personal from that standpoint. We didn't play well. That's personal on me, so I've got to get that fixed."
The Cowboys sure fixed what ailed them after entering this game with consecutive losses to New Orleans, Green Bay, and the New York Jets.
And for the first time in a month, the Cowboys started fast and were all up in the Eagles' throats right away, barely giving them a chance to breathe.
On the game's opening drive, linebacker Jaylon Smith jarred the ball loose from Eagles tight end Dallas Goedert and Maliek Collins recovered at the Philadelphia 45. Seven plays later, Tavon Austin zig-zagged into the end zone from the 20, and the Cowboys were up 7-0.
On the Eagles' ensuing possession, DeMarcus Lawrence stripped the ball from quarterback Carson Wentz, and Antwaun Woods recovered for the Cowboys at the Philadelphia 16. Two plays later, Ezekiel Elliott scored for a yard out, and Dallas was suddenly ahead, 14-0, over the shell-shocked Eagles.
It's just the second time in 10 years that the Cowboys have recovered two fumbles on the opponent's opening two drives. Afterward, Lawrence was asked about Pederson guaranteeing an Eagles' victory.
"I told him to shut up, didn't I?," Lawrence said. "So, what do you think he's doing now."
In all, the Cowboys forced a season-high four turnovers and resembled the team that rushed out to a 3-0 record to start this season.
"When you're a captain or leader of the defense, you have to make plays that make a difference in the game," Smith said. "That's something that me and (Lawrence) pride ourselves on — being playmakers.
"It's important that our coaches believe in us, our players believe in us, and that we believe in ourselves. As long as we do that, we're going to be fine."
This was a solid all-around performance by the Cowboys, who looked very impressive on both sides of the ball.
Quarterback Dak Prescott was 21-of-27 for 239 yards and a touchdown and an interception. Prescott also scored his 21st career rushing TD, breaking a tie with Roger Staubach and setting a franchise record for the most rushing touchdowns by a Cowboys quarterback.
Also, Elliott rushed for 111 yards on 22 carries, and Amari Cooper caught five passes for 106 yards. And the Cowboys' defense sacked Wentz three times and limited him to just 191 yards passing.
"We know we're a bad group of guys," said safety Xavier Woods, who picked up his first interception of the season. "We haven't been showing it the last three weeks, but we came out there and played well in all three phases."
Now, about that third phase of the Cowboys' attack. The Cowboys penned the Eagles deep in their territory when kick returner Miles Sanders made a few ill-advised kickoff returns out of the end zone.
Plus, kicker Brett Maher was sensational on a day when he booted a team-record 63-yard field goal as time expired in the first half and became the first player in NFL history with three successful career field goals of at least 60 yards.
"I've got great respect for them," coach Jason Garrett said of the Eagles. "They are a fantastic team and have been. We've played some great games with them the last few years and battled them.
"Every time we go out there, it's a war. It starts upfront. Offense and defense, and you challenge those guys to win their battles. That's where it starts, and our guys really stepped up (Sunday)."
Following that stellar showing against the Eagles, the Eagles have a bye week next week before resuming action on Nov. 4 with a game at the New York Giants on Monday Night Football. Meanwhile, as far as any parting words for Pederson, Lawrence said: "Don't ask me about that man no more."