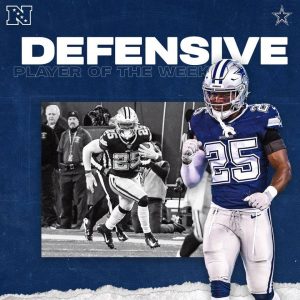 By Dwain Price, NDG Sports
FRISCO – With the second half of the season set to start Sunday night at 7:20 when they host Minnesota at AT&T Stadium in Arlington, the Dallas Cowboys know they can ill-afford to get off to that same slow start against the Vikings that they did this past Monday against the New York Giants.
And if they do, the end results may not be to the Cowboys' liking.
On three of their first four possessions against the Giants, the Cowboys had an interception, a missed field goal and lost a fumble. Still, the Cowboys were able to overcome those miscues and run over the Giants, 37-18.
However, the Cowboys (5-3) can't expect to engage in catastrophic turnovers and dethrone a Vikings team that's 6-3 and only one game behind the first-place Green Bay Packers in the NFC North. Especially since the Cowboys are working on a short week, thanks to playing on Monday Night Football.
"Recovery is the name of the game," linebacker Jaylon Smith said. "So, we've got to focus on getting our bodies back right and preparing mentally – ramping up the mental — because it's going to be less physical this week because it's a short week.
"But for us, we're all professionals and we hold each other accountable. So, anybody's that's slipping we're going to get them right, especially myself."
The Cowboys fell behind the lowly Giants, 12-3, before staging a comeback that started right after a black cat raced onto the field and interrupted play for about two minutes. Apparently, the black cat put a spell on the Giants.
"The first thing that crossed my mind, no joke, is like they've got bad luck now," defensive end DeMarcus Lawrence said. "It just turned on them.
"If a black cat runs on the field in a Monday Night Football game – a black cat – you might as well call it quits, bro'."
The win over the Giants increased the Cowboys' record to 5-3 at the season's midway point. But tight end Jason Witten knows they'll probably be calling it quits earlier than expected this season if they don't do something to correct those slow starts.
"You're not going to be able to win games down the stretch with slow starts as you move forward in the second half of the season," Witten said. "So, you certainly have to get cleaned up — you can't ignore that, you can't pretend like it didn't happen.
"You've got to be accountable to it and you've got to acknowledge why it's happening and get it corrected."
After hosting the Viking, the Cowboys hit the road to play at Detroit (3-4-1) and at New England (8-1) before returning home to host the Buffalo Bills (6-2) on Thanksgiving Day. So, that's a very tough stretch of games that they know may define their season.
Meanwhile, it wasn't as if the Cowboys' offense didn't have its moments against the Giants. Prescott passed for 257 yards and threw touchdown passes of 42 yards to Blake Jarwin and 45 yards to Amari Cooper.
And Prescott's 15-yard scoring strike to Michael Gallup was a thing of beauty.
"It was a running play and we felt like we got them offsides, and it became a free play," coach Jason Garrett said. "They ended up not throwing a flag (for offsides), so it was a free play in our mind, but in no one else's mind.
"Then, Dak made a heckuva throw, and then Gallup obviously finished it off. It was an incredible acrobatic play that he made. To maintain his balance, to somehow get himself, contour his body to get himself in the end zone, it was spectacular."
What also was spectacular was the Cowboys' defense, which forced three turnovers, recorded four sacks and saw cornerback Jourdan Lewis return a fumble 63 yards for a touchdown. A lot of the defensive pressure came from newcomer Michael Bennett, who recorded a sack and had four quarterback hurries in his first game with the Cowboys after he was acquired about two weeks ago in a trade with New England.
"Just him being really active," Garrett said of Bennett. "I thought all our guys did a good job rushing.
"We really wanted to push the pocket and I just felt like they were around the quarterback a lot, affected the quarterback a lot and really had a big impact on this game."
Going forward, after remaining in first place in the NFC East with a half-a-game lead over Philadelphia (5-4), the Cowboys realize they must raise their game to a higher level in order to get through the rough patches that the second half of the season will present.
"We're a confident team," Prescott said. "We're a team that even when we're fighting adversity, even when we're getting in our own way and struggling a little bit, we have confidence and we have faith in what we're going to do."