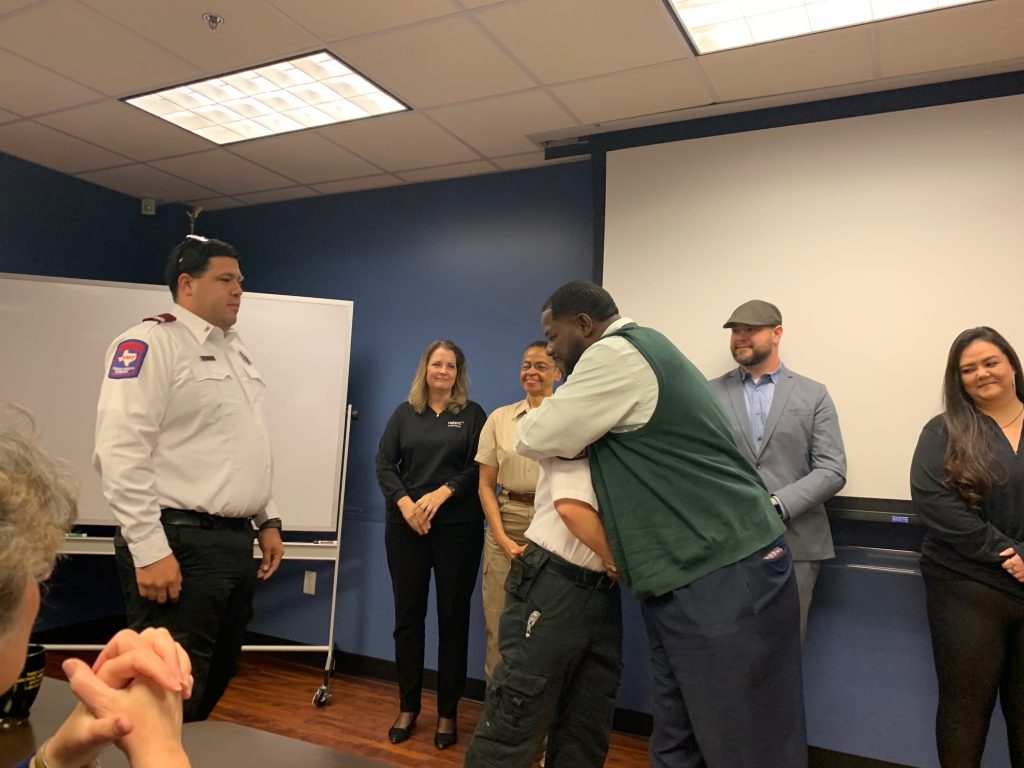 By: Ruth Ferguson, NDG Editor
Jamal Adams died on Nov. 11 around 2 p.m. While at work at a local high school, he experienced a cardiac arrest. But, thanks to his co-workers, Jamal was successfully resuscitated with bystander CPR and an AED.
This week, Adams was reunited with those at the school who saved his life, as well as the MedStar and Fort Worth Fire Department crews who participated in his lifesaving response. Representatives from Reliant Energy, the school district and the American Heart Association also attended the reunion.
While sitting in a staff meeting at North Crowley High School, according to Adam's co-worker Valerie Duran, they were sitting in a staff meeting at school when the suddenly began to shake almost like a seizure. When the MedStar staff arrived, Duran stated that they slowly placed him on the ground and he stopped shaking but he was gasping for breath before appearing to pass out. She said they placed the Automated external defibrillators (AED) pads on him and shocked Adams. Then Duran performed two minutes of CPR after the shock.
When they began to ventilate the patient Duran took a big gasp of air and opened his eyes. He told the medical staff that he felt very dizzy and lightheaded prior to fainting. However, he told the MedStar team that he did not have any chest pain or nausea. However, Green did also share he had suffered an MI on Sept. 14 and had two stents placed.
During the reunion on Wednesday, Duran received recognition from the American Heart Association (AHA) for her efforts in saving Green's life by performing CPR. Others present included Sandee Treptow from Reliant Energy who helped the school obtain the funding for training and AEDs. Also, Margatet Terry, Coordinator of Safety and Security for Crowley ISD who coordinated CPR training and AED placements in the High School. The training and devices proved to be lifesaving and rewarding experience for the staff and Adam's loved ones.
AHA also recognized Alfred Ortiz and Nathan Duran, the MedStar crew members who arrived and helped Green.