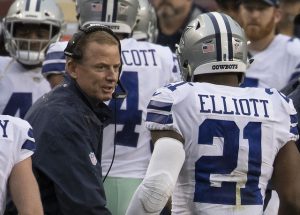 By Dwain Price, NDG Sports
ARLINGTON – Following all the fanfare entering this season, the Dallas Cowboys' disappointing season has abruptly ended and the offseason has started in earnest. But owner Jerry Jones hasn't decided to address the elephant in the room.
That is: What is the future of head coach Jason Garrett?
"I'm not going to get into it at all, an evaluation or an assessment. I'm not," Jones said after the Cowboys ended a frustrating 8-8 season with Sunday's impressive 47-16 victory over the Washington Redskins at AT&T Stadium. "I'm going to do exactly what I always do and get up, go forward and do the best job that I can.
"We'll make those decisions accordingly."
Garrett has been on the hot seat for most of this season because the Cowboys haven't played up to their high standards. And now that the season is over after the Cowboys missed the playoffs for the sixth time in the nine full seasons Garrett has been their head coach, Garrett's seat has gotten even hotter.
After Sunday's game, Garrett said he has "no idea" if he'll be coaching the Cowboys next season. He also said he "absolutely" feels he has more coaching to do in the NFL.
"I want to be the coach of the Dallas Cowboys," Garrett said. "We will see what happens."
Since Garrett replaced the fired Wade Phillips on an interim basis midway through the 2010 season and ultimately becoming the head coach the following season, the up and down Cowboys have been on a serious roller coaster ride. Counting the 2-3 playoff record, the Cowboys are 87-70 under Garrett, won three NFC East titles, but never got out of the divisional round of the playoffs.
However, everyone went to Garrett's defense after the Philadelphia Eagles sealed the Cowboys' fate and won the NFC East with Sunday's 34-17 victory over the New York Giants. Quarterback Dak Prescott noted that Garrett has meant "everything" to him since he was a fourth-round draft pick out of Mississippi State in 2016.
"He drafted me," Prescott said. "He's the reason I'm here.
"That's a great guy. I respect and love everything that he stands for – the coach he is, the man he is. He's somebody I look up to and I'm thankful for his impact."
Linebacker Jaylon Smith also is thankful for the impact Garrett has had on his career.
"The one thing I can say about Jason is that he's been super consistent regardless of the highs and lows, the 13-and-3 season, the 7-and-9s, whatever," Smith said. "He's the same guy.
"He's going to be there clapping. I just respect him. I respect him. It's all about love for me."
But for Jones, will that love translate into him signing Garrett to a new contract?
"There's 20 or 30 boxes there, and as I've said many times he does things about as good as can be done," Jones said. "I know he gave a speech before the NFL to all the owners and coaches that they'll be talking about for forever.
"We all know that at the end of the day we want to win the ball game, and we do. At the end of the day, that's certainly our goal to get that done. But Jason Garrett does a lot of outstanding things and has been trained and has a lot of valuable experience."
However, is that "valuable experience" enough for Jones to overlook what happened to his highly talented team this season under Garrett's leadership? For his part, Garrett wanted to focus on the concentrated effort the Cowboys showed in racking up 517 yards while picking apart the hapless Redskins.
"Again, we just had a hell of a day with our football team, an emotional locker room afterwards," Garrett said. "You want to live in those moments and you want to embrace those moments.
"It's a special group of men that I got to be around to coach and to coach with, and I'm just so proud of what our team did (Sunday). We'll think about what's next at some point, but again I just want to soak in the day and devour the moment and the emotions of the day, and again I'm so proud of our football team."
Ezekiel Elliott rushed 18 times for 122 yards and a touchdown, and also caught a touchdown pass, and Michael Gallup had five receptions for 98 yards and three touchdowns as the Cowboys had their highest-scoring game of the season against the Redskins. But it was all fool's gold in the end.
"I don't know if I've ever been disappointed after a win, to be honest," said Prescott, who completed 23 of 33 passes for 294 yards and four touchdowns. "But that was (Sunday). It was unfortunate and very disappointing.
"I think that's the best word for it, the best description for the locker room. You go into that locker room, you see all those men – great teammates, great men. To know that it won't be the same, the team won't be the same is disappointing. It's a change in every term and that's something that I'll never get used to as long as I'm in the NFL. It hurts, but it is what it is."
Like Garrett, Prescott also is searching for a new contract. So he sort of knows what's going through Garrett's mind.
"As I said, I won't speak on another man's career when mine is unsure as well," Prescott said. "So that doesn't change.
"But as I said, all of that stuff will take care of itself in the time being."
Of course, it still stings for Jones to see his talent-laden team miss out on the playoffs. But that's the heavy price the Cowboys have to pay after losing games to lowly teams like the New York Jets (24-22) and Chicago Bears (31-24), not to mention last week's critical 17-9 loss in Philadelphia.
"Well, I've known Jason ever since I've been in pro football," Jones said. "His dad (Jim Garrett) was here when I got here and scouted for us for 20-something years. He gave him some great advice. His dad told him: 'Stay next to Jerry.'
"The bottom line is I have all the respect in the world for (Jason Garrett) and his lineage. He's outstanding. I think he's an outstanding asset, not only for us, but for the NFL."
However, will that be enough for Jones to give Garrett a new contract? Or will Jones go searching for a new man to coach the Cowboys?
Only time will tell.