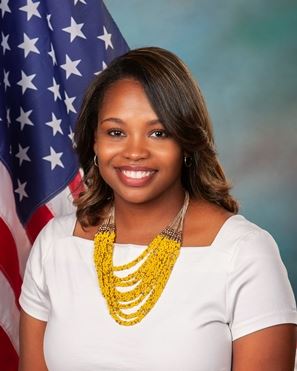 By Ruth Ferguson, NDG Editor
Candice Quarles held a brief press conference at the offices of her attorney and made it very clear she is not resigning from her position as a member of the DeSoto City Council.
"I will not be stepping down, our work is not done," Quarles said earlier today. She disclosed for the first time the fact she took a polygraph last August and passed it.
Anthony Lyons, Councilwoman Quarles' attorney, acknowledged they have had the results since last summer, but at his advice, they were not made public. He also advised her against making any statements until the investigation was completed. According to Lyons, there will always be naysayers. He stated the results of the polygraph will be provided to city officials in a closed session.
Information regarding the examiner who administered the polygraph was available for members of the media at the end of the press conference.
Following the investigation regarding her husband, Jeremiah Quarles, mishandling of public funds questions were raised regarding the councilwoman's involvement and knowledge of the activities. She has consistently denied any involvement and following an investigation by independent auditors and local authorities, no grounds were found for charges or legal allegations. However, local news reports have persisted.
"It's been a really tough past couple months with the incessant articles about this closed case. Now it is time to address my constituents," Quarles shared in an earlier statement announcing the press conference.
Although Quarles added members of the community are tired of the attacks "on our community," there are vocal members who have disrupted city council meetings with calls for Quarles to resign.
Also in attendance was Dr. Frederick Haynes, Senior Pastor of Friendship-West Baptist Church. He pointed out that he has known Quarles for years and has seen her serve the community when the cameras were not around. He also suggested the attacks were intended to dampen her rising political star.
Under Quarles' leadership, DeSoto was the first North Texas city to provide guaranteed paid parental leave for city employees.