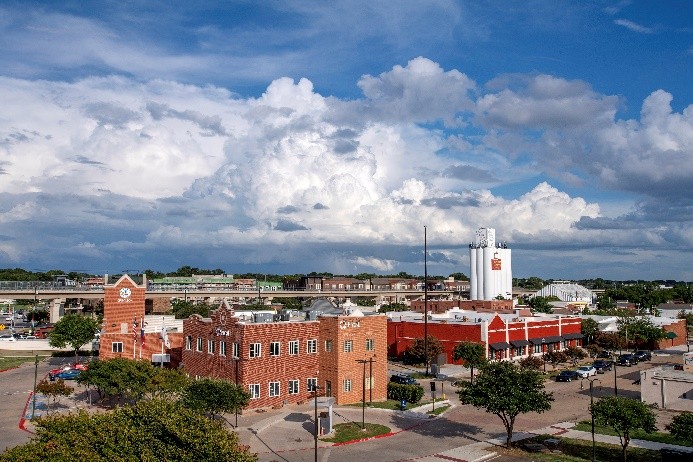 Carrollton's economy grew by more than 3 percent in 2019, as the City's strategic location, transportation links, quality of life, access to a quality workforce, low crime rate, low tax rate, and pro-business stance continue to make it a competitive location for corporate business investment.
Expansion in all sectors of the economy grew steadily, with Carrollton's large industrial base generating more tax revenue, thus enabling Carrollton to sustain its high-quality City services at a low cost.
"Our elected officials and City staff are committed to the vision of being the community that families and businesses want to call home through investment in our infrastructure, industry, neighborhoods, public safety, parks, and leisure services," Economic Development Director Robert Winningham said. "We're looking forward to steady growth in 2020 as Carrollton continues to partner with the business community for exciting new development and re-development projects."
Carrollton's population grew to 136,879, and its assessed value grew to more than $14 billion last year. Currently, more than 15,000 businesses call Carrollton home. As of December 2019, 89,157 people were employed in Carrollton, which is a 1.7 percent increase from 2018. Average annual wages also increased, with the average worker earning $64,535 annually. Home values in Carrollton increased in 2019 as well, with the average home value rising to $283,238.
Industrial Sector
Carrollton's industrial sector, represented by 691 industrial and flex buildings, grew to 44.9 million square feet last year with an occupancy rate of 96 percent. Average rent grew approximately 5 percent and is currently at an all-time high, while vacancy is at an all-time low.
Michigan-based Steelcase Inc. leased two new buildings in the Valwood Crossroads business park, and Swiss American CDMO expanded its operations, bringing its total lease space to 265,960 square feet.
In 2019, Carrollton City Council created the Industrial Rehabilitation Grant Incentive Program for façade improvements on aging industrial buildings in the City's major street corridors.
Office Sector
Carrollton's office sector, represented by 251 buildings, grew to 4.5 million square feet in 2019. AmerisourceBergen opened its new $75 million facilities at the Offices of Austin Ranch. The 300,000 square-foot building consolidated the company's North Texas workforce with 1,300 employees working at the Carrollton location. AmerisourceBergen plans to expand to a second office building in Carrollton within the next few years.
Retail Sector
Carrollton's retail sector continued to grow in 2019 to 6.8 million square feet with an occupancy rate of 94 percent.
The City's ongoing efforts to encourage the redevelopment of older shopping centers through the Retail Rehabilitation & Redevelopment Programs continue to generate results. These programs offer incentives to existing commercial properties for improvements that enhance the properties and surrounding areas.
Several new retail leases were signed at the redeveloped Northcrest Village Shopping Center, Carrollton Town Center, and the Shops at Old Denton, including Ari Chicken, BCD Tofu House, Myungrang Hot Dog, and S&S CheeseSteaks. 24 Hour Fitness also occupied its newly renovated location at Frankford Village.

Residential Sector
Last year also brought the addition of a variety of both multi-family and single-family housing options in Carrollton.
Construction is underway for Thomas Place, designed as a community with single-family homes and townhomes. The area is made up of more than 24 acres on the east side of Denton Drive in close proximity to Downtown Carrollton and the Downtown Carrollton Station on DART's Green Line. The project developer is Arcadia.
In 2020, City Council approved a zoning request for a 19-acre residential urban community to be located at a site along Crosby Road west of Fannidella Drive. The master plan for the Crosby Urban Village community proposes approximately 190 residential units including single-family detached, townhomes, and live-work units. The community will contain a variety of architectural styles, have connectivity to open spaces, access a future extension of a hike and bike trail, and provide a pedestrian-friendly streetscape connecting the neighborhood to Downtown Carrollton and Crosby Recreation Center. The project developer is InTown Homes.
Additionally, Billingsley Company is soon expected to begin construction of Phase 2 of Sloane Street, an upscale, mixed-use residential and retail development at Midway Road and Hebron Parkway, adjacent to the International Business Park.
In Fiscal Year 2019, 378 permits were issued for single-family homes in Carrollton.
Downtown Development
Downtown Carrollton continues to attract mixed-use development that appeals to both Carrollton residents and daytime employees while creating a destination atmosphere for shopping, dining, and entertainment.
3 Nations Brewing Company relocated its brewery to Downtown Carrollton at 1033 E. Vandergriff Drive. The historic structure, which was built in 1950 and once served as grain storage shed, underwent significant renovations to be transformed into the brewing facility and taproom it is today. The project will serve as a catalyst for the future development of restaurants and entertainment in Downtown Carrollton.
In partnership with the City of Carrollton, DART broke ground on the Silver Line in 2019, a 26-mile corridor that will extend from DFW International Airport eastward to Shiloh Road in Plano, and thus connect Downtown Carrollton with points east and west including the airport. The Silver Line is expected to begin operation by the end of 2022.
The Switchyard, an upscale apartment community, opened last year, adding 234 units just north of Downtown on N. Broadway. Construction is also underway for Olympus on Broadway, a mixed-use and transit-oriented residential community on S. Broadway north of Crosby Road. It is being developed by Trammell Crow. The project will include approximately 400 residential units in multiple mid-rise buildings connected by a pedestrian bridge, as well as 10,000 square feet of street-level retail space. Pre-leasing is anticipated to begin in September 2020. By 2021, there will be a total of approximately 1,200 high-end residential units in Downtown Carrollton.
Looking Forward
Carrollton's population is projected to grow to nearly 140,000 people in 2020. Employment is projected to expand by 1,473 jobs and will soon exceed 90,000.
The fastest-growing sector is expected to be health care and social assistance, as the industry is currently experiencing a 3.4 percent year-over-year growth rate in Carrollton. The fastest-growing occupation group is healthcare support occupations with a 3.5 percent year-over-year projected growth rate.
To learn more about the development projects underway in Carrollton and for monthly updates from the Economic Development Department, visit carrolltontxdevelopment.com.