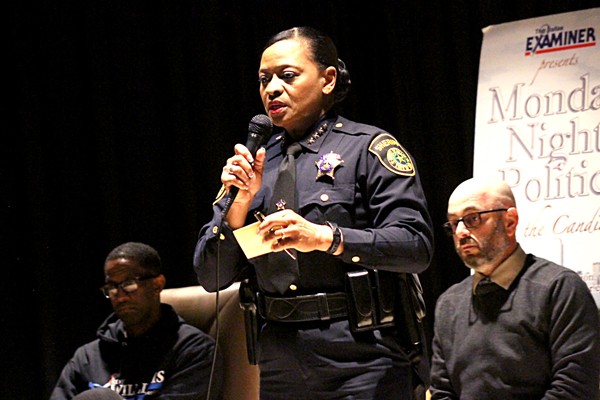 By David Wilfong, NDG Contributing Writer
There were two races on the slate for the audience who gathered at the African American Museum in Fair Park for Monday Night Politics this week. The forum is hosted by the Dallas Examiner and gives candidates running for office the opportunity to make their case directly to the public.
This Monday, candidates for the Democratic primary election for the Dallas County Sheriff and the County Commissioners Court in Precinct 1. The candidates running for Sheriff were the first to take the stage.
The Sheriff's race features two challengers vying to unseat current Sheriff Marian Brown. Brown was initially appointed to the position when Lupe Valdez left office to run for Texas Governor. She was then elected by voters for the past term in office. The first African American Sheriff in Dallas County, she has a career in law enforcement stretching back to 1988.
She told the audience she restored the Sheriff's Office compliance in crucial law enforcement programs and challenged voters to compare the department now to what it was before she took the reigns.
"What it is that I have been doing is doing the work, doing the work," Brown said, later adding, "We are proud that we are no longer considered an 'at-risk academy,' which we were initially. We are not anymore. In fact, we are in the top five in the State of Texas, according to the Texas Commission on Law Enforcement. We are proud of that fact, and we are definitely proud of the fact that we are now considered a CJIS-compliant (Criminal Justice Information Services) department. The department had not been CJIS-compliant in the five years that I had been here."
Sam Mohamad, on the force for 19 years, is the first Arabic-speaking Muslim police officer in Dallas County. He is also a law enforcement academy instructor at the Dallas County Community College District. He has received a life-saving award and Officer of the Year award, among others.
He said his first priority is "bridging the gap between the community and the police. There has been a lot of mistrust, a lot of problems and a lot of issues in recent years. And I will work on that to make it a better environment for both of us. Us as law enforcement, and you as civilians that pay us your tax dollars to be able to protect you and make life better for you."
Mohamad also cited the need for better DUI enforcement to reduce traffic fatalities, protecting schools and congregations, and human trafficking issues, which he says have gone unnoticed.
Roy Williams, Jr. is a former Dallas County Constable for Precinct 4 and a Dallas County Sheriff's Deputy with 29 years of law enforcement experience. Twenty-one of those years working in the Sheriff's Office. He was also the 2015 Dallas County Democratic Party Elected Official of the Year.
Williams said there is a morale issue in the Sheriff's Office, which he says has led to too much turnover, and subsequently excessive overtime costs of up to $1 million per month. He says he will bring a new culture to the department, and has been endorsed by six different Democratic clubs.
"There is a problem there," Williams said. "And it is something that can be rectified, can be fixed. How do we do it? You change the leadership. (John C.) Maxwell said it best, 'You want to change the direction of an organization or entity, you change the leader.' OK, and it's bringing 21st-century leadership, perspectives, and police practices to change that narrative."
A testy race for Commissioner's Court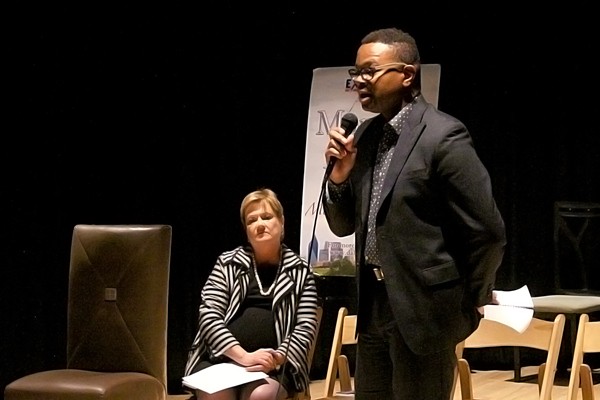 The second presentation featured current County Commissioner Theresa Daniel defending her record in Precinct 1 against challenger Zachariah Manning.
Manning was aggressive in his attack on Daniel's record, saying she had voted on wasteful programs, taking funds that could have been used for better purposes. Daniel would later point out one of the mentioned programs had been voted on before the time she took office. Manning continued, saying Daniel had had seven years to implement needed change in Dallas but had not done so; homelessness being a vital issue for him.
"I'm going to come in day one, day two, three, four, five, six, seven; not seven years, now almost eight years, 'We're working on it,'" Manning said. "'We're trying to get this done. We have to have all these communities and cities to work together.' By golly, you could have been on to that seven years ago. Because our homeless issue has only gotten worse in the last seven years. The commissioner has only been talking about homelessness since I've been running. That's when it started becoming an issue for her, is when I brought it up as an issue."
Daniel took issue with many of the claims made by Manning during his time at the microphone. She grew noticeably impatient with Manning by the end of the session.
"It is the ignorance of someone who can't even recognize that, in fact, the Dallas County area has a variety of the things that he says are just dreams," Daniel said. "That is not true, and part of it is because of the hard work of a public servant like myself, who does bring the education and the knowledge, but also walking the blocks with people."
She added, "And by not being a screaming person, I think that I've been able to encourage more relationship-building and more trust among those who have to work together."
Monday Night Politics will resume on Feb. 17 at the African American Museum at Fair Park. The forum runs from 6-8 p.m. and is free to the public.