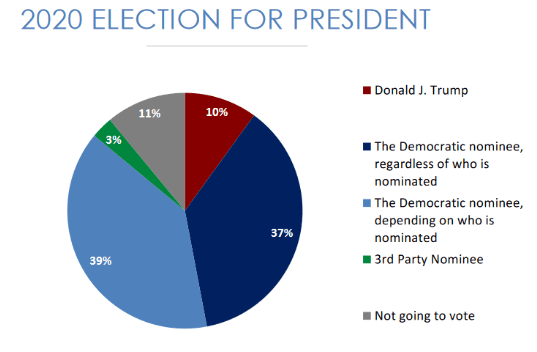 The first surprise for some may be the fact 10 percent of African American voters actually support President Donald Trump for re-election in a poll of 1,000 participants. Perhaps what is even more surprising is the fact 11 percent stated they do not plan to vote for anyone.
The poll released this week was commissioned by WURD Radio (96.1FM / 900AM / WURDRadio.com / WURDApp), the only African American-owned talk radio station in Pennsylvania. They recently partnered with Washington, D.C.-based Lincoln Park Strategies ("LPS"), a full-service analytic research firm, to conduct and release a major nationwide survey of 1,000 African American adults.
The purpose of this poll, the result of a comprehensive field assessment conducted by LPS, was to gauge Black adult opinions on the 2020 presidential field (including Democratic candidates and the Republican incumbent) and a number of key policy issues.
Democrats can take some comfort in the fact up to 76 percent of African American voters plan to vote Blue in November – but it depends on who is the ultimate nominee. According to the poll, 39 percent are threatening to not support the nominee versus 37 percent who will vote for the Democratic nominee no matter who is nominated.
The Democrats are very much aware of the importance of getting the African American community engaged in this election if they want to regain not only the White House but the U.S. Senate as well.
The poll shows that if it comes to U.S. Senator Bernie Sanders versus President Trump, 53 percent of African American voters will choose the Senator. The slender margin must make the party feel uncomfortable from such a core constituency.
When looking at Black opinions on the 2020 Democratic presidential primary field's "electability" against the incumbent Donald Trump, 53 percent of respondents expressed support for Bernie Sanders in a hypothetical head-to-head match-up against Trump (10 percent) in the general election (in addition to 23 percent undecided), followed by 51 percent for Joe Biden vs. Trump  and 48 percent for Mike Bloomberg vs. Trump. Elizabeth Warren ranked 4th among survey respondent choices at 44 percent, followed by Pete Buttigieg (41 percent), Amy Klobuchar (40 percent) and Tom Steyer (39 percent).  With conversation about Black voters over the last couple of weeks centering around Bloomberg's past embrace of the controversial policing method known as "stop and frisk," a majority of respondents (35 percent) answered that a candidates "prior support" of the tactic would influence their vote for president versus 26 percent who said it would not. Nearly a quarter of Black adult respondents, 22 percent, said that a candidate's sexual orientation would likely "impact" their support of him or her.
In the Democratic presidential primary, Bernie Sanders receives 41 percent of Black voter support, followed by Joe Biden at 36 percent and Mike Bloomberg at 27 percent.
In other results, respondents identified healthcare, jobs and the economy, and social issues as the top three issues they would like addressed.  Three-quarters of respondents, 75 percent, said that they are likely to fill out the upcoming Census online (42 percent) or by mail (33 percent); 17 percent of respondents said that they don't plan to complete the Census form (7 percent) or they do not know about it (10 percent).
This is the first nationwide political opinion poll of Black adults in 2020 done in partnership with a Black-owned media outlet, and it is among the first of this year to deeply examine Black voter sentiment.  With the South Carolina presidential primary only days away on February 29th – where over 60 percent of voters in that primary are Black – and Black voters nationally accounting for a significant and decisive share of the overall Democratic primary electorate, there is increased public and media interest in the role the Black electorate will play in deciding the next Democratic Party nominee for president and who wins the White House in November.
The LPS-WURD Poll is the result of 1,000 total interviews among African American adults conducted between February 13 – February 21, 2020, in an online survey. Results were weighted to ensure a proportional response. The margin of error for overall results is 3.1% at the 95% confidence level. Full poll results can be found below: