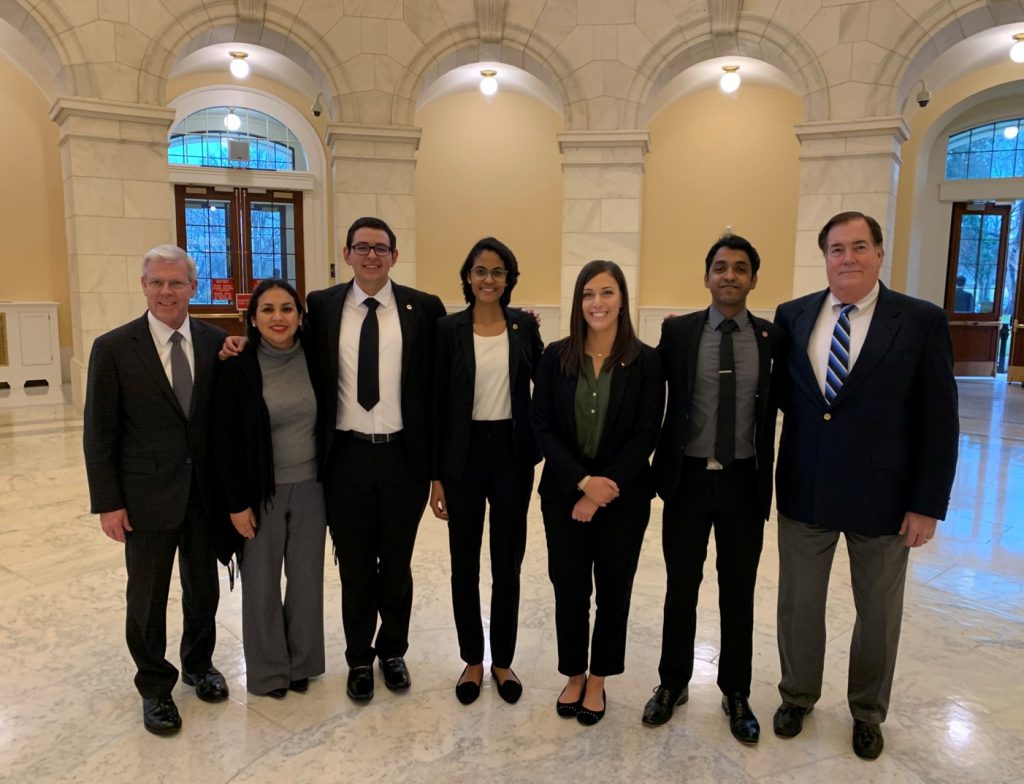 WASHINGTON – Four Dallas County Community College District students have new insight into the world of politics. The students traveled to the nation's capital last month to participate in the 2020 Community College National Legislative Summit. Presented annually by the Association of Community College Trustees (ACCT), the summit places students from across the nation face-to-face with the movers and shakers of American politics. From members of U.S. Congress to political analysts and other high-profile speakers, the summit aims to shine a spotlight on the importance of community colleges.
Determined, driven and destined for greatness, the four students representing DCCCD include Daniela Contreras, a criminal justice major at El Centro. Equipped with distinctions including being named to the President's Honor Roll and outstanding international student, Contreras has hopes of earning a doctorate in criminology; Natalie Hargus, a dental hygiene major at El Centro, who's also taken classes at Eastfield and Richland colleges, someday hopes to become a pediatric dental hygienist; Sam Mathew, a biology major at Richland, also has dreams of becoming a dentist. He's currently honing his leadership skills through a role in the Phi Theta Kappa honor society; and Brandon Valdez, a political science major at Brookhaven, who when asked, simply says he's great at "explaining things", a skill likely to prove useful as a government professor, which he aspires to become. Each student was selected after an extensive application process.
"I think its very easy to get caught in the idea that you are just one single person and your voice doesn't really matter or have impact," Hargus said. "This trip to D.C. has shown me that everyone does have a voice and if you are willing to speak up about what is important to you, you can make a difference in this world."
They were accompanied by DCCCD's chancellor Dr. Joe May, Dr. Justin Lonon, the district's executive vice chancellor, board trustees Monica Lira Bravo and Wesley Jameson; Isaac Faz, associate vice chancellor for public and governmental affairs, Martha Fernandez, senior manager of government affairs and board relations executive Perla Molina.
"The four students who were selected and participated in the summit embody the very things we strive to instill in our students: a curiosity about the importance of national policy to shape public life, and proof that the education they are receiving in the district can prepare them for the halls of public service," said Lonon.
"It's not just going to see monuments, it's a working session," said Jameson. "These students really made us proud. Their stories, their conversations with the legislators…it's a busy time, but it's a face-to-face meeting with someone who has direct control over their life, their family's life and the future of other children."
The students' agenda included meetings with U.S. Reps. Colin Allred, Marc Veasey, and Eddie Bernice Johnson. Topics of discussion included why the students feel community college is the best fit for them, obstacles they've overcome in their pursuit of higher education and their experiences with the Pell grant, a federal education subsidy most frequently-issued to low-income students.
"The most impactful part of the trip was all the knowledge I gained in four days," said Contreras, who also works as an administrative clerk at El Centro. "It went from cultural, to historical, to political, to higher education and beyond. It was eye-opening to understand the process and effort it takes to make those "little changes" and make sure you're absolutely doing the best for all or most of the students."
The summit also brings together community college leaders from across the country to advocate for issues that affect two-year schools. Attendees get the opportunity to network with other community college stakeholders and learn about changes in policies and laws that affect their institutions.