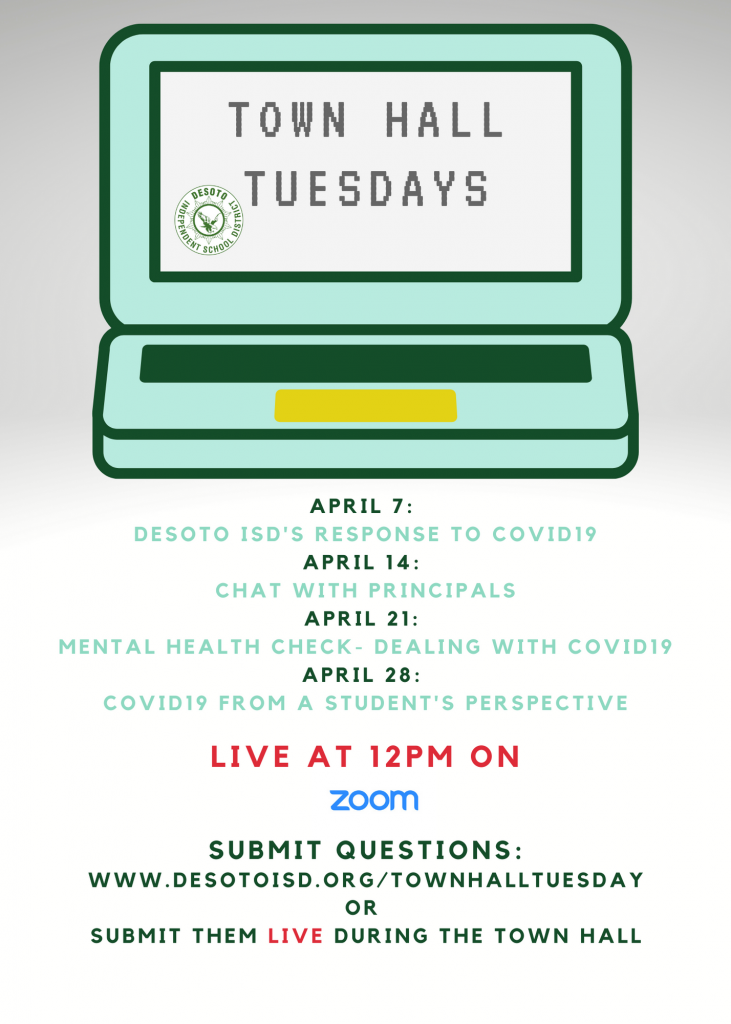 DeSoto ISD invites the community to engage with the upcoming Town Hall Tuesdays at Noon series, a new weekly, mid-day virtual dialogue set to take place every Tuesday in April via the Zoom virtual meeting platform. Once concluded, all meetings will post to the district's social media platforms for more widespread viewership.
Each meeting will have a specific focus and will allow the DeSoto ISD school community to hear from and talk with district leaders and other partnering members of the community who will provide pertinent information and answers to relevant questions.
"As a nation, city, district, and community, we are living through a very traumatic time and our utmost priority is to ensure the safety and wellness of everyone.  Life as we know it has changed for every single adult who works in our system, and for every single student and family who calls DeSoto ISD home. Our parents and students are facing some new challenges and opportunities and like other districts, we had to make some incredible decisions and some swift decisions. So, we just want to ensure we are a visible, valuable resource for our families," said DeSoto ISD Superintendent of Schools Dr.  D'Andre J. Weaver. "Now, more than ever, we want our families to see what together we will truly means in practice — we are all in this together."
The first installment of the Town Hall Tuesday was Tuesday, April 7 and served as an opportunity to communicate the ways in which the City of DeSoto and the school district have responded to the coronavirus pandemic. Additionally, the featured panelists Weaver and City of DeSoto Public Information Officer Kathy Jones will provide new information and answer questions related to their organization's response to this public health crisis.
The latter half of this first town hall will focus on Anywhere, Anytime Learning (AAL) which formally launched on April 6. Chief Academic Officer Celeste Barretto will talk about district expectations for teachers, students, and their families and introduce this foundation for the future of learning in DeSoto ISD.
All members of the DeSoto ISD school community are welcome to participate in the virtual town hall series sessions and can submit questions via this link to be addressed, when possible during the Zoom meeting.
The complete schedule of the current Town Hall Tuesdays at Noon dates and topics are included below.
April 7: District Response to CoVid-19 and Anytime, Anywhere Learning
April 14: Principals Talk Back 
April 21: Mental Health and Wellness during CoVid-19
April 28: DeSoto ISD CoVid-19 Student Perspectives with the Superintendent's Student Advisory Council   
Each virtual meeting will take place from noon to 1 p.m. with up to 100 online attendees.
Upon the conclusion of the meeting, a link to each complete session will be posted to the district's social media platforms for later viewing.
For additional information regarding the DeSoto ISD Tuesday Town Hall at Noon series, please send an email to info@desotoisd.org.