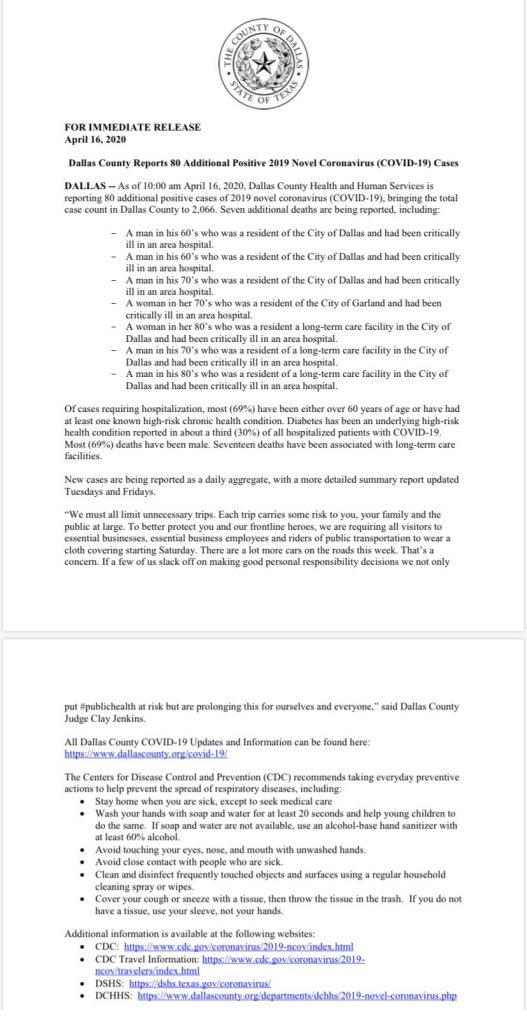 Dallas County Judge Clay Jenkins notified local residents via a Tweet that effective Saturday, April 18 wearing a cloth mask is required when visiting an essential business. Also, the employees of essential businesses are required to wear a cloth mask.
"To better protect you and our frontline heroes, we are requiring all visitors to essential businesses, essential business employees and riders of public transportation to wear a cloth covering starting Saturday," Jenkins tweeted.
It is unknown if Jenkins was required to gain approval for this order by a vote of fellow Dallas County Commissioners. Earlier this month, they voted with a yes vote from Jenkins as well, to require notification and approval on extending the shelter-in-place order.
"We must limit all unnecessary trips. Each trip carries some risk to you, your family and the public at large. To better protect you and our frontline heroes, we are requiring all visitors to essential businesses, essential business employees and riders of public transportation to wear a cloth covering starting Saturday,"