The coronavirus isn't going away soon. In fact, it is showing somewhat of a resurgence in Texas, with an ever-growing number of hospitalizations and even fatalities.
On Tuesday, the state reported more than 10,000 cases in one day, the highest single day total since the beginning of the pandemic. There were 60 deaths reported as well.
Aside from the human toll, the pandemic has claimed yet another social victim; the State Fair of Texas. In an announcement on Tuesday, Fair officials said they had decided it was in the best interest of all to call off the annual tradition that brings millions of visitors to Dallas each year.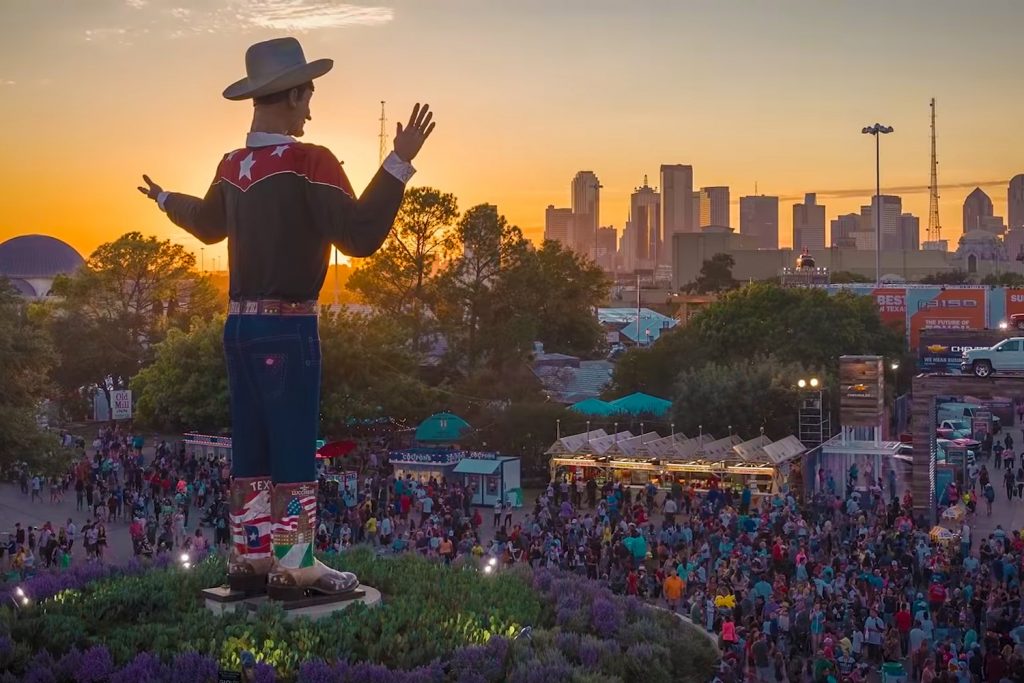 "This was an extremely tough decision. The health and safety of all involved has remained our top priority throughout the decision-making process," said Gina Norris, board chair for the State Fair of Texas. "One of the greatest aspects of the Fair is welcoming each and every person who passes through our gates with smiles and open arms.
"In the current climate of COVID-19, there is no feasible way for the Fair to put proper precautions in place while maintaining the Fair environment you know and love. While we cannot predict what the COVID-19 pandemic will look like in September, the recent surge in positive cases is troubling for all of North Texas.
"The safest and most responsible decision we could make for all involved at this point in our 134-year history is to take a hiatus for the 2020 season."
The board said it would continue to fund its nonprofit mission of promoting agriculture and creative arts through the programs it supports. In regards to sports events which currently are slated to happen in conjunction with the State Fair, the board said the decision would be made by the schools and athletic conferences involved.
"I love the State Fair of Texas, and I am saddened that I will not be able to take my family this year," said Dallas Mayor Eric Johnson. "But the State Fair made the safe and responsible decision. COVID-19's spread is rampant in our community, and public health must come first. We all have to do what it takes to slow this virus so we can save lives and livelihoods and get back to doing what we enjoy."
Inevitably in an election year, the virus has gone political. Criticism of the state government and its handling of the pandemic has been high among political opponents.
"Republican Governor Abbott's failed coronavirus response has led to a record surge in new infections and deaths in Texas," said Texas Democratic Party Communications Director Abhi Rahman. "It didn't have to be this bad. From day one of this crisis, Abbott has undermined, hid, and outright refused to listen to science or doctors. There were over 10,000 new cases today, 60 Texans who died today, and at least 2.7 million Texans who remain unemployed. This is because Greg Abbott put the health and economic well-being of our state last. Texans continue to suffer as a result."
On the same day, Abbott was opening a new "Surge Testing Site" in the Rio Grand Valley. He has acknowledged the increase in cases, but says measures developed by his team are up to he task.
"COVID-19 is now spreading at an unacceptable rate in the state of Texas, and it must be corralled," said Abbott. "We have several strategies to reduce the spread without shutting Texas back down, but it is up to all of us to do our part to protect ourselves and others. We need all Texans to follow the safety protocols developed by our team of medical experts, including staying home if you are sick or at risk, sanitizing your hands, social distancing, and wearing face coverings or masks. COVID-19 hasn't gone away, but neither has our ability to slow the spread of it. Texans have shown that we don't have to choose between jobs and health—we can have both. We can protect lives while also restoring livelihoods. Together, we will keep Texans safe and we will keep our state open for business."
Meanwhile, Texas residents are encouraged to get tested, especially if they show symptoms or are in high risk categories. The Texas Department of Insurance (TDI) is advising those seeking tests to avoid incurring unnecessary costs.
"If your doctor requests the test as medically necessary, you shouldn't be charged for it. That's federal law," the TDI noted.
"To reduce your chances of facing extra costs: call your primary care doctor before getting tested. Get your doctor's testing order and recommended testing site. The order makes the test possible at no cost to you.
"Ask the testing site if it has any charges or fees not covered by insurance.
"Do not authorize non-COVID tests at the same time unless your doctor orders them.
"Unless it's a medical emergency, avoid hospital or free-standing emergency rooms, which usually charge more.
"If you aren't paying with insurance, shop around on the web or by phone to compare testing charges and possible add-on fees.
"If you get a bill related to a COVID test, call your health plan to find out why. If you can't resolve the issue with your plan, call the TDI Help Line at 1-800-252-3439."