By Dwain Price
NDG Sports
In one of their more dominant performances in recent history, the Dallas Cowboys totally befuddled Philadelphia on Monday night on their way to a thorough 41-21 spanking of the Eagles at AT&T Stadium.
The lop-sided victory moved the Cowboys into sole possession of first place in the NFC East with a 2-1 record. They also proved that – if they can stay relatively healthy — they're going to be a pretty tough customer to deal with come playoff time.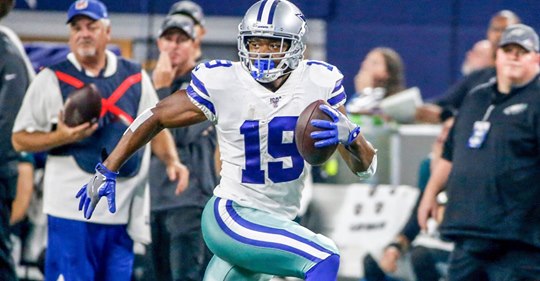 "I think our team is well-conditioned, and it showed-up," coach Mike McCarthy said. "It showed-up early.
"We had the one unfortunate turnover down there. But to beat a division opponent by two-plus scores, it's a good win."
The game was the first time quarterback Dak Prescott played at AT&T Stadium since his gruesome season-ending ankle injury that he suffered last Oct. 11 against the New York Giants. Prescott was carted off the field that day with tears in his eyes.
On Monday, there was nothing but tears of joy coming from Prescott and the Cowboys as they completely dismantled the Eagles.
"I'm thankful for this opportunity to be back out there," Prescott said. "It's the momentum more than anything that we're trying to capture.
"To get a statement win like this, I feel, was important. That was a complete game."
Prescott picked apart the Eagles' defense for 21 completions in 26 attempts for 238 yards and three touchdowns. He was, in a word, flawless.
"I'm very happy for Dak," McCarthy said. "I think any of us who have had a chance to witness how much he puts into it, he's just a great leader for our football team.
"He's obviously playing the quarterback position at a very high level right now. And I think it's like a lot of things – you get what you put into it — and he's off to an excellent start."
Two of Prescott's touchdowns – a 19-yarder and a 22-yarder – went to tight end Dalton Schultz. The latter TD put the Cowboys ahead, 41-13, with 6:56 remaining in a game that wasn't as close as the final score indicated.
"It's tough (for opposing defenses) when we have as much depth as we have," said Shultz, who caught six passes for 80 yards. "Guys sit back and try to play shell (defense), which opens up a lot of opportunities for tight ends in the middle.
"We have options everywhere. It's a good problem to have."
In addition to the passing game, the Cowboys also ran roughshod over the Eagles as Ezekiel Elliott rushed for 95 yards on 17 carries and two touchdowns, and Tony Pollard collected 60 yards on 11 carries.
"The offensive line was super physical," Elliott said. "We controlled the line of scrimmage. You can tell that with the O-line pushing them back five yards a play.
"When we would go to the hurry-up (offense), they were still on the ground cramping up. They definitely felt us."
It wasn't just the Cowboys' offense that the Eagles felt. The defense also had some spirited moments as cornerbacks Trevon Diggs and Anthony Brown each walked away with an interception, with Diggs carrying his back 59 yards for a touchdown to give the Cowboys a 27-7 lead at the outset of the third quarter.
Diggs, who was at Alabama during the same time as Eagles quarterback Jalen Hurts, said his pick-6 brought back old memories.
"I had read Jalen, his three-step, his quick game read, and the receiver had a short split, so I was expecting him to run an out," Diggs said. "It feels good to handle the ball as a defensive player.
"I appreciate (Alabama) coach (Nick) Saban training me good. He does teach that."
Brown, who has been much maligned during his career, appreciates what Diggs brings to the game. Particularly since Diggs now has three interceptions this season.
"He was on fire tonight," Brown said. "He's pushing me on my side, and I love to watch him play."
The fans loved it, too, as the Cowboys packed their stadium for the first time since the 2019 season. The sellout crowd of 93,267 was boisterous all night long as the Cowboys forced two turnovers and now own an NFL-best eight turnovers this season.
"We haven't had one of these games in a while, where offense and defense can come together and put together a complete game," linebacker Jaylon Smith said. "The beautiful thing about it is there are so many areas that we can still improve.
"We're not satisfied. It's hard to get a win in the National Football League. Whenever you do, you must enjoy it, but we have a long way to go."
Winners of two straight games, the Cowboys will host the Carolina Panthers on Sunday at noon as they seek to keep their momentum going.
"We played some good football these first three games," McCarthy said. "But what I'm most excited about is how young we are, how our young guys are getting opportunities.
"These guys are stepping-up and the vets are doing a great job playing along. So I'm hopeful this will pay dividends as we move forward."