Dallas Park and Recreation's management partner that oversees day-to-day operations at Fair Park, Fair Park First, has unveiled images for its new 18-acre Community Park Complex.
The renderings showcase a bird's-eye view of the entire Community Park Complex along Fitzhugh Avenue, a view of one of the play areas featuring a skywalk and hillside slides, and a snapshot of an outdoor market featured in the Market Grove overlooking the central lawn.
The park will feature numerous free and accessible amenities, including wifi, water play, a full-scale outdoor performance stage, a dog park, outdoor cafes, exercise equipment, inclusive playgrounds, and custom play structures, all with diverse native landscaping and shade woven across the site.
The primary goal of the Community Park is to be a world-class park that creates gathering and recreational space for South Dallas, while serving as an attraction to visitors from across the region.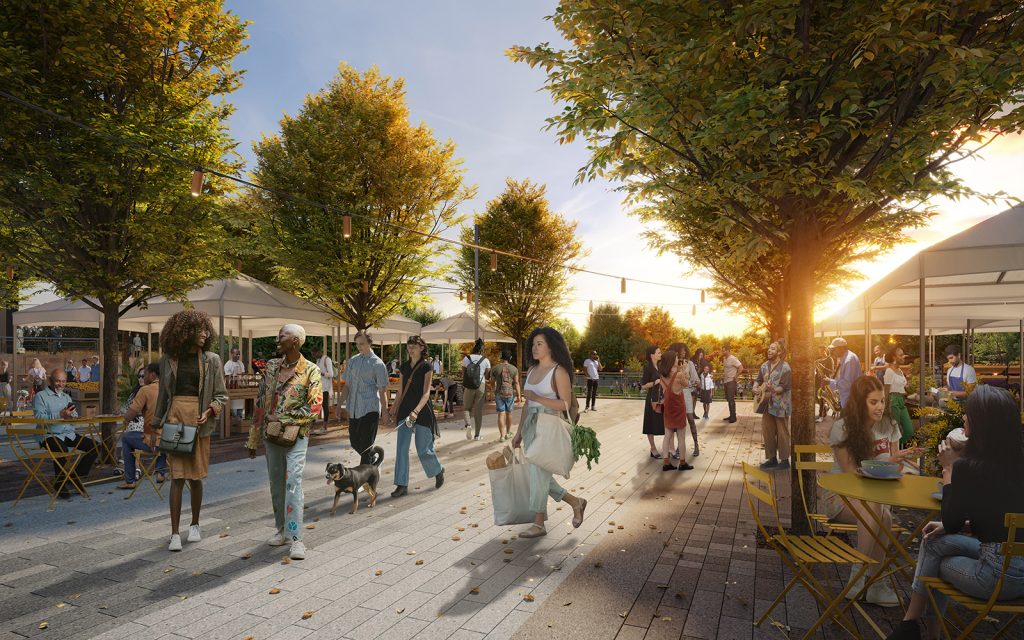 "Mayor Johnson has made parks one of his major priorities for 2023. Public-private partnerships will have to be the cornerstone for this initiative," said Dallas Park and Recreation Board President Arun Agarwal. "The Dallas Parks and Recreation Board is thrilled to help build a new 18-acre Community Park with our partner Fair Park First. The design team for this is world-class, and the process has been very inclusive. This park truly encompasses amenities that will benefit the community for decades to come."
The Community Park Complex design has reached a milestone, transitioning into its final phase of design, permitting, and construction documentation. With community input, the design process has been an extensively collaborative project led by the renowned landscape architect firm Studio MLA and the global design powerhouse Gensler. Key partners on the project include Studio Outside, AGWms studio, buildingcommunityWORKSHOP, Turner Construction, VCC, Con-Real, Rise360, K Strategies, and Biederman Redevelopment Ventures.
"Encouraging play and physical activity are vital to the overall health of our community, and what better way to do so than to provide a new, vibrant 18-acre Community Park," said Ron Kirk, former Dallas Mayor and current Unity Co-Chair for the Fair Park Your Park Campaign. "I am proud to serve as Co-Chair on this capital campaign to raise the needed funds for this park. We know this new community asset will contribute to healthier, brighter, and stronger futures for the neighborhoods and beyond.
The Community Park Complex is the signature component of Phase 1 of the 2020 Fair Park Master Plan Update and the Fair Park Your Park Campaign. Under the leadership of the Fair Park First board and leadership team, the Community Park Complex has raised $25M towards the campaign goal of $93M.
The park is expected to open in 2025.
Dallas Park and Recreation has established public-private partnerships with nonprofits, community agencies, corporations and businesses for the management and operations of city-owned venues and facilities. These important connections help the department offer unique programs and activities for diverse audiences and interests. Among the department's other partners are the Dallas Zoo, Dallas Arboretum, Shakespeare Dallas, FC Dallas/Money Gram Soccer Park, Baylor Scott & White Health, Dallas United Crew, Woodall Rogers Park Foundation, National Audubon Society, and Dallas County Audubon.
For updates, visit FairParkDallas.com. For a complete listing of the department's partnerships, visit DallasParks.org.
Fair Park First's mission is to restore, revitalize, and renew the 277-acre National Historic Landmark through transformative improvements, increased activations, and improved tenant relations, ultimately sustaining Fair Park for generations to come. In partnership with the City of Dallas Park and Recreation Department and OVG360, the Dallas-based 501(c)(3) nonprofit's priority is to reestablish Fair Park as one of Dallas's premier performance and recreation venues so that it is accessible and enjoyed by all. Since 2019, the Fair Park First has saved the City of Dallas nearly $40M in operating costs for the entire Fair Park Campus. For more information about Fair Park First, head to www.fairparkfirst.org.