By Stacy M. Brown
NNPA Senior National
Correspondent
In a news story that likely will leave some head-scratching along with palpable outrage, Kansas City police dismissed a Black News report of missing women.
Then one showed up.
"The story shows why it's absolutely essential to have radical Black media outlets that are unapologetic and unafraid to report on issues that white news outlets don't want to talk about or that they will water down or whitewash," Ryan Sorrell, the 27-year-old founder of the Kansas City Defender, told the independent Capital B News.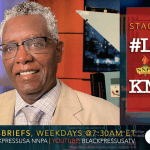 The Black Press has been the primary voice of the Black community for 196 years. It informs those who are frequently forgotten or ignored by the mainstream media.
The Black Press of America has always spoken truth to power.
Despite the horrors of slavery, the disgust and inhumanity of Jim Crow and the Civil Rights Era, and the global Black Lives Matter Movement, the Black Press has marched on.
And the community has continued to depend on the Black Press without being let down.
Reports that mainstream outlets quickly have dropped news and information further underscore the importance of the Black Press of America.
The latest news is that CNN, which once held itself as the leader in cable news, is looking for a comedian to fill its crucial 9 p.m. to 11 p.m. time slot.
Media folks are talking about Bill Maher, Arsenio Hall, and Trevor Noah as possible replacements for the spot that Anderson Cooper and Don Lemon once occupied.
"The 'news entertainment' personality could fill the prime-time hours of 9 p.m. to 11 p.m. with a nontraditional version of the news," Semafor, the global news platform, reported.
The outlet cited five people familiar with the planning.
Reportedly, CNN executives have looked at other comedic news-focused talk shows for inspiration.
Executives have also discussed turning the 9 p.m. to 12 a.m. hours into a series of shows modeled like a variety program, with "shows within shows" for different journalists, one network official told Semafor.
The discussions are aimed at turning away from the competition with MSNBC for liberal news junkies and toward pulling viewers from HGTV, ESPN, and Netflix, Semafor further reported.
The potential move at CNN comes even as critical news about people of color is only found in the Black Press, like the story the Kansas City Defender broke.
Excelsior Springs authorities arrested Timothy Haslett Jr., 39, after a Black woman claimed she escaped from a basement and sought help from his neighbors, alleging Haslett raped, whipped, and detained her against her will for weeks.
The woman reportedly escaped while Haslett was dropping his son off at school. The Defender reported that police searched his home and discovered a "dungeonlike cell" in his basement, painted black and equipped with several "devices" to restrain the woman.
Authorities charged Haslett with first-degree rape, first-degree kidnapping, and second-degree assault.
The Defender reported that Haslett was known to post racist content on Facebook. He also had problems with Black soldiers when he was in the military.
More than 230 African American-owned newspapers and media companies are represented by the National Newspaper Publishers Association.
These newspapers and media companies, which comprise the Black Press of America, provide news and information to people all over the world.
Meanwhile, the Semafor report noted that CNN "is also reckoning with its need to have talent on hand to cover major breaking news events, such as the House Speaker's race, which ran late into the evening and boosted CNN's ratings."
Further, the report noted that other outlets have already started looking at comedy to replace news.
"Fox has found success with "Gutfeld!," a conservative alternative to late-night TV shows dominated by liberal hosts that tries very hard to be funny and regularly beats its traditional late-night competitors," Semafor reported.
"NBCU executives have considered moving Seth Meyers' show to MSNBC."
Semafor also offered that such an experiment could also deliver a programming disaster for the mainstream news outlet.
Quoting the Washington Post's Erik Wemple, Semafor observed, "Consider a scenario in which said entertainer was on air at the moment that an overseas war broke out, or an earthquake struck, or some states person died. Watching the network scramble to switch back into hard-news mode — well, that would surely be entertaining."