By Dwight Brown
Film Critic for NNPA
(**) The thrill is gone. The Marvel Universe shoots a blank—a tiny one.
Arguably, the itty-bitty Ant-Man and The Wasp aren't the most impressive superheroes. So, any new adventure for the self-promoting, mildly amusing Scott Lang (Paul Rudd), aka Ant-Man, and his sidekick/lover Hope Van Dyne (Evangeline Lilly), aka The Wasp, has got to be a blast. Otherwise, both will continue to be pesty bugs barely worth a swat.
After being tasked to make a big deal out of small things, co-writers Jack Kirby and Jeff Loveness don't rise to the occasion. Their feeble, generic script's main idea is to export the two insects and their extended families into a wondrous quantum realm (a premise similar to November's animated film "Strange World"). The dialogue is anemic too, as "Get to the ship" and "Don't' be a dick" are the screenplay's most poignant lines.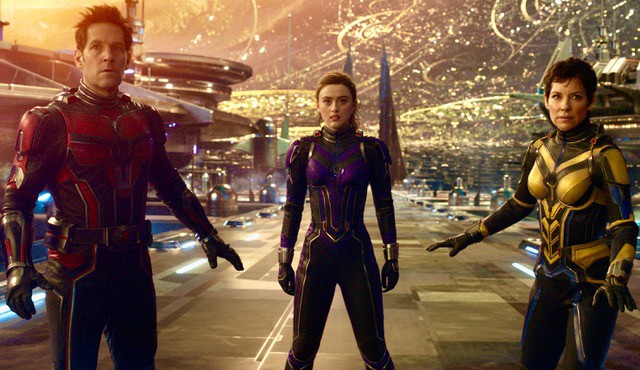 That's the narrative director Peyton Reed, who helmed the two previous Ant-Man movies, must work with. To build momentum for this franchise and other MU movies, as they intend to expand into a "Phase 5" level, he needed to reach deep into his bag of tricks to make this film a standout. He didn't.
Scott's teen daughter Cassie (Kathryn Newton), a science and technology buff, has been messing around with an invention. Egged on by Hope's father Hank (Michael Douglas), a physicist, but cautioned by his mate Janet (Michelle Pfeiffer), she continues. Presto! the device sucks Ant-Man, The Wasp and their clan into the quantum realm. They're stuck in a time and place far off. An exotic sphere filled with weird creatures in need of saving.
Toying with them, like evil villains do, Kang, The Conqueror (Jonathan Majors, "The Last Black Man in San Francisco") is ready to manipulate and use the bug family to unleash a power that can destroy worlds, realms and universes. He's a bad dude. They're in trouble.
Face it, action/fantasy/adventure/comedy fans aren't that picky. They want what they want when they want it. And it feels like the entire production team is content to just meet genre fans' bare minimums. Everyone and anyone connected to the un-special special effects should take a remedial SFX course. There isn't a laser, explosion or freefall that looks remotely innovative. Fight scenes are dull and poorly choregraphed. Nearly all action sequences are immemorable. And when the characters run from or into danger, the CGI screens are so obvious that it's embarrassing. The one visual that lingers is Ant-Man climbing a mountain of his clones. It's eerie.
The costumes (Sammy Sheldon) look like Toys R Us plastics attached to old drapes. Sets, production design and overall art direction lack a distinct style. That blandness doesn't give cinematographer Bill Pope much to work with. Even Christophe Beck's blaring musical score, with horn sections blasting louder than the speakers at a Metallica concert, don't add an ounce of energy.
That puts a lot of stress on the cast to make the movie more than what it is–a dud. Rudd's comic charm is fun, but it wears thin quickly. Newton's innocence and spirit give Cassie spunk, and not much more. Katy M. O'Brien ("The Walking Dead") as a warrior queen fights like an MMA champ and William Jackson Harper ("The Underground Railroad"), as her sidekick, exhibits a natural charm. It's rare that an antagonist outshines the hero, but Majors' brooding, blasé villainy gives the film some credit: "Have I killed you before? It's all a blur." Kang may have a date with destiny and infamy.
For those who can sit through 2h 5m (editors Adam Gerstel and Laura Jennings) of missed opportunity, the good news is that the finale features a nice surprise that brings the story and series full circle. That may make some of the targeted teen audience happy.
In a candid interview, veteran director Martin Scorsese expressed his view of MU films: "…they seem to me to be closer to theme parks than they are to movies … I don't think they're cinema." The very thoughtful "Black Panther" and extremely debauched "Deadpool" beg to differ. But junky, formulaic MU movies like "Ant-Man and The Wasp: Quantumania" make Scorsese's case.
This teeny-weeny, derivative and short-on-thrills venture gives superhero movies a bad name.
In theaters now.
Visit NNPA News Wire Film Critic Dwight Brown at DwightBrownInk.com.