By Yusef Toomer
NDG Contributing Writer
The Douglass community was in full effect last Saturday as a crowd of politicians and voters gathered to discuss the future leadership of the Plano neighborhood. The morning was windy and cool, as political candidates gathered for what would be a final pitch to voters, as candidates tried to convince those present to become a part of their team. The tone was surprisingly cordial despite the presence of opposing candidates.
The Douglass community is more diverse than ever, and it showed on Saturday, as Blacks and whites, Hispanics, Asians, and Middle Easterners gathered in the warm, community atmosphere.
The gathering of opinions seemed to make voters feel appreciated, noticed, and not overlooked despite their race or political affiliation. While all worthy candidates had something to bring to the table, it was a place of community and representative of an America that is a melting pot.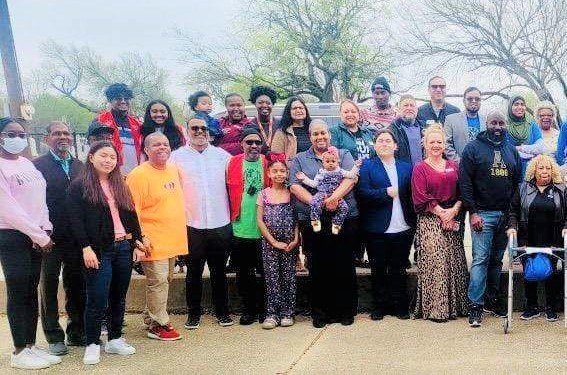 Simon Salinas, on the Plano Board of Trustees, was in attendance, along with several other candidates, including Michael Cook, who is running for School Board, Place 5.
Running for Collin College Board of Trustees place 3, Stacey Donald watched as Dewayne Gibson spoke at Douglass Center.
Margaret Turner, a candidate for place 4 in Plano, has been associated with the community for nearly thirty years. Her family, kids and grandchildren attend school there.
Turner is up against Tarrah Lantz for place 4, as both candidates push to represent their district in a fierce, tight competition.
Several speakers stressed the importance of each singular vote, while downplaying political bias and urging the community to get out and vote.
People at the event let their hair down despite the political race going on. Katherine-Chan Goodwin, in her campaign for Plano ISD Place 7, appeared excited to be there with David Evans, another community organizer.
The peaceful gathering represented the tightly knit community that has built a history in Plano.
Elanor Stimpson-Evans enjoyed the event as she read a newspaper. In her late seventies, Elanor is the fourth-generation granddaughter of the first settlers in Plano.
As members of the community engaged with each other, the genuine joy and love on each person's face was akin to a family get-together, despite the political nature of the event.