By Terri Schlichenmeyer
The life of the hero you most admire has been an open book.
For much of your life, you've read about him, watched him on television, and heard epic stories about him. Sometimes, your hero almost feels like a close personal friend; absolutely, he's someone you want to be like. So read the new book, "King: A Life" by Jonathan Eig and find out all the things you don't know.
Head to your local bookstore or library, and you'll find thousands of "excellent biographies" about Martin Luther King Jr. You'll find books on his work, beliefs, and his activism. Still, says Jonathan Eig, "the literature remains incomplete" – in part, because those books don't tell much about King as a flawed, irritated, exhausted human.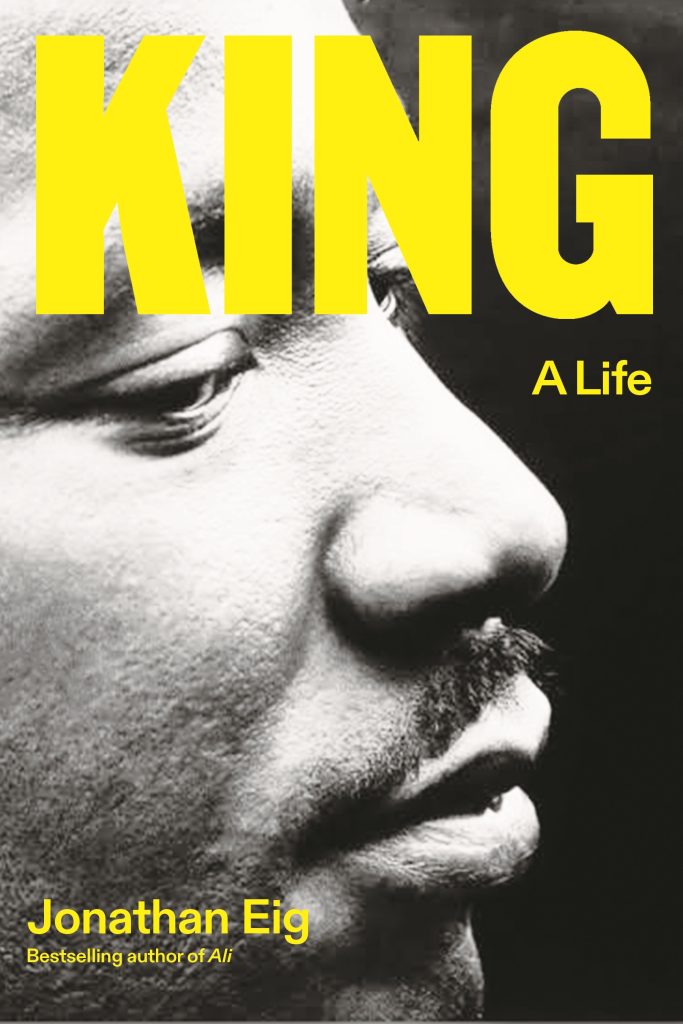 Says Eig, "King was a man, not a saint, not a symbol. He chewed his fingernails. He shouted at the TV during quiz shows." He cheated on his wife for so many years that "friends referred to [one] woman as his second wife."
By the time he was a year old, young King had three names: Michael, Marvin, and Martin; his father adopted the name Martin Luther "after a few years," and the younger King was then called M.L. As the middle child and older son, young Martin was close to his sister but tussled with his younger brother, sometimes violently. The elder Martin was a preacher, and M.L. said that God had called him to do the same – though he later claimed that he "tried to escape" the "responsibility on [his] shoulders, and grew frustrated.
King was a ladies' man who fell in love with a white woman before meeting Coretta Scott. He often felt insecure and had a "tendency to depression." He "found strength in words," vowing in a fiery speech in December of 1955 that "the world would change.
Their time had come. He promised."
Since his activism as a young man and his assassination more than a half-century ago, surely everything there is to know about Martin Luther King Jr has been told, right?
Surprisingly, no, as author Jonathan Eig shows. In "King: A Life," readers are given a glimpse of a man who was more complicated and flawed than we've seen before.
Part of the revelation lies in the stories Eig tells about King and the many people in King's circle, friends, family, and colleagues. It's in these tales that we see a King that contemporary accounts generally didn't reveal, but that "thousands of recently released FBI documents and tens of thousands of other new items…" have shed light on.
In that, we learn much about the turbulent relationships that King had, broadly, and specifically with politics and presidents. There's a fair amount of edginess and intrigue in that and, given the time-frame, a sense of doom.
The size of "King: A Life" may be daunting, but don't let it scare you. It's a surprisingly fast read that includes things you know and things you don't know. Truly, you're going to want to open this book.
(Jacket design by Tré Seals, Used by permission of Farrar, Straus and Giroux)