By Stacy M. Brown
NNPA Senior National
Correspondent
On Thursday, President Joe Biden announced his selection for the Joint Chiefs of Staff chairman.
Air Force Gen. CQ Brown Jr., an exceptional fighter pilot with extensive knowledge of China, has been chosen for this significant role, making history.
If Brown wins confirmation, it will make African Americans the majority in the Pentagon's top military and civilian roles.
"General Brown is a warrior, descended from a proud line of warriors," Biden declared, noting that Brown's father, U.S. Army Colonel, C.Q. Brown, served in Vietnam.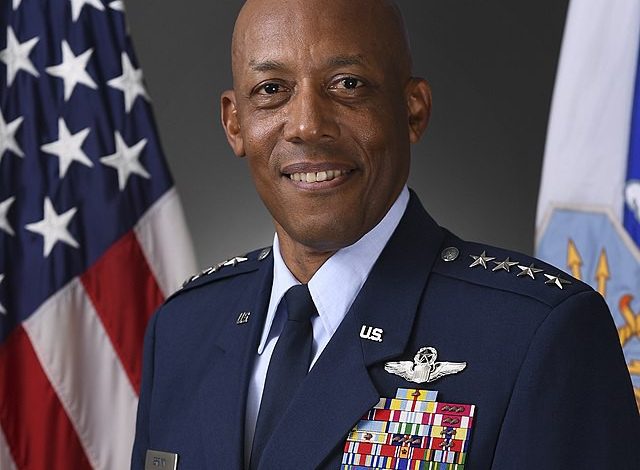 His grandfather, Army Master Sgt. Robert E. Brown, Jr., led a segregated unit in World War II.
"And command pilot General Brown brings to this role more than 3,000 hours of flighting — flying experience, including 130 combat hours," Biden stated.
"He knows what it means to be in the thick of battle and how to keep your cool when things get hard, like when your F-16 was on fire.
"And you returned to the base in Florida in 1991. C.Q. had to eject more than 300 mi- — 300 miles an hour, landing in the Everglades."
The current Defense Secretary, Lloyd Austin, the first Black Pentagon chief, has been serving since the start of the administration.
Previously, Army Gen. Colin Powell was the only African American to serve as Joint Chiefs chairman.
Once the Senate approves, Brown will replace Army Gen. Mark Milley, whose term concludes in October.
President Biden formally introduced Brown as his pick during a Rose Garden event on Thursday afternoon.
President Biden's choice of Brown stems from his exceptional track record of modernizing the U.S. aircraft fleet and nuclear arsenal. Additionally, Brown's extensive experience in shaping U.S. defenses to counter China's emergence played a significant role in the decision. Brown has been deeply involved in efforts to equip Ukraine with billions of dollars in U.S. weaponry to help fend off Russia's invasion.
Throughout his career, Brown has commanded at every level in the Air Force and in joint commands across Europe, the Middle East, and Asia.
He was pivotal in leading the U.S. air campaign against the Islamic State militant group.
As a career F-16 fighter pilot with over 3,000 flight hours and comprehensive command experience, he has broken barriers and achieved several firsts.
For instance, he became the military's first Black Pacific Air Forces commander, spearheading the nation's air strategy to counter China's activities in the Indo-Pacific region.
Three years ago, Brown made history as the first Black Air Force chief of staff, becoming the highest-ranking African American to lead any military branch.
His extensive expertise and focus on modernizing U.S. airpower for 21st-century warfare have positioned him as the frontrunner for replacing Gen. Milley as the Pentagon focuses on deterring potential conflicts with Beijing.
However, Brown's confirmation may face delays due to Alabama Republican Sen. Tommy Tuberville's objections.
Sen. Tuberville has been blocking military nominations due to his concerns over the Pentagon's policy on reproductive health care, particularly regarding travel funds and support for troops and dependents seeking such care in states where it is currently illegal.
As the highest-ranking officer in the country, the Joint Chiefs chairman serves as the principal military advisor to the president, defense secretary, and National Security Council.
Although the chairman does not command troops or hold a formal position in the chain of command, they play a crucial role in major military decisions, policy-making, and advising on significant combat operations.
The chairman leads meetings with the joint chiefs of the different armed services.
During his tenure as Air Force chief, Brown has advocated for modernizing U.S. nuclear capabilities, including developing the next-generation stealth bomber.
Officials contend that Brown was key in retiring outdated warplanes and allocating funding to advance unmanned systems.
Additionally, he has supported the establishment and growth of the U.S. Space Force, which received initial resources and capabilities from the Air Force.
President Biden's selection of Gen. Brown highlights his commitment to diversity and expertise in countering emerging challenges, particularly in China's rise and modern warfare domains.
If confirmed, the White House said Brown's historic appointment would mark a significant milestone in the leadership of the U.S. military.
"I can think of no one better suited or more qualified to lead our force through the challenges and responsibility ahead," Biden concluded.