By Dwight Brown
NNPA Film Critic
(***1/2) Romantic and social drama ignite this ode to love, tolerance and acceptance.
"He's a human!" Bellows Triton (Javier Bardem), an underwater sea god, who mistrusts those who live on land. "That doesn't make him our enemy." Exclaims Ariel (Halle Bailey), his mermaid daughter as she defends her love for a prince who is a mortal.
"Our worlds were never meant to be together!" Declares Queen Selina (Noma Dumezweni) to her open-minded son Prince Eric (Jonah Hauer-King). He responds to her phobia affirming his liking for merpeople and the need for their kingdom to be progressive: "I'm trying to reach out to other cultures, so we don't get left behind."
The characters, dialogue and narrative are extensions of Disney's brand, which champions love and inclusion, as opposed to fear and exclusion. And so, this live-action adaptation, of the 1989 animated Oscar-winning film, dives deep into current culture wars. It encourages audiences to be accepting of people who are different from the ones they know. A fitting epilogue to Disney's 1960s theme "It's a Small World After All."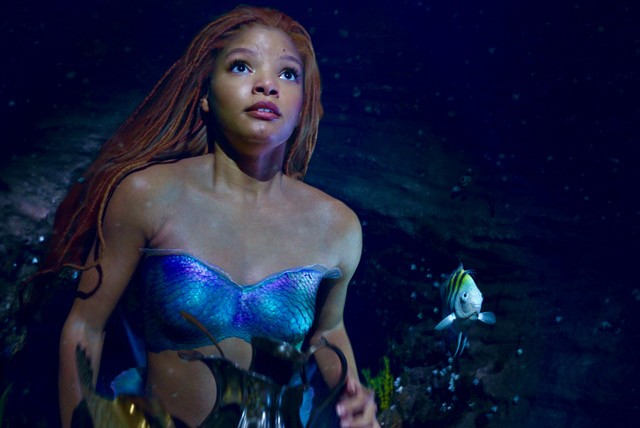 Ariel is an 18-year-old mermaid who lives somewhere under the Caribbean sea with her many sisters and widowed father King Triton. She roams around the local waters with her fishy sidekick Flounder (Jason Trembly, Room), a flighty, dizzy seabird named Scuttle (Awkwafina) and a Jamaican crab named Sebastian (Daveed Diggs), who is an advisor and a spy for her father.
Up above, a ship in a storm is wrecked by winds and waves. A gallant fellow, Prince Eric, is thrown overboard. Ariel saves his life and brings him ashore. He is semiconscious but able to feel her presence and hear her bewitching singing. He is taken, mesmerized and haunted by her beauty and voice. Ariel is smitten too. So much so that she makes a deal with her evil Aunt Ursula (Melissa McCarthy), a sea witch. She can become a human with legs, visit the surface land and pursue the one she loves, Prince Eric. But it's an agreement that comes with poisonous tentacles attached from her cunning, duplicitous, octopus-looking auntie. Watch out!
Director Rob Marshall (Chicago) and the film's producers have pulled together a stellar tech crew that makes the "merpeople's" swimming as thrilling as Superman flying. Speedy, graceful and mercurial movements that capture the eye. Also, the pastel colors in Ariel's fins are captivating and watching her swim is as thrilling as viewing Avatars in Avatar. Seamless VFX and SFX technology is on display.
Anyone connected to the visuals should be proud: cinematographer Dione Beebe, production designer John Myhre, art director Lauren Briggs-Miller, costume designer Colleen Atwood and set decorators Diana Samuila and Gordon Sim. Alan Menken's original songs and music from the animated film hold up well. Lin-Manuel Miranda wrote a clever, catchy rap tune for Scuttle, called "The Scuttlebutt," which is about hot gossip. And for 2h 15m, editor Wyatt Smith keeps your attention glued to the screen with only a few lapses.
Bailey's casting was a genius choice. Sweet voice, angelic look, loving. McCarthy dials her mean bitch factor up to the max. She's campy, hysterical and devilish all at once. It's fair to say that this very multiracial, multicultural version has strayed far away from its original 1837 source, a Danish fairytale written by Hans Christian Andersen. The interracial mix of the sisters and entire cast speaks for itself. The ensemble moves around nonchalantly like having a Black queen, white prince, an Asian bird, a Spanish sea god, a Pakistani butler (Art Malik) and a crab with a thick Jamaican patois is normal. And it is. It's the new normal.
David Magee's (Finding Neverland) thoughtful script is filled with father/daughter tension. Mother/son misunderstandings. Fear of the unknown. Befriending others. Love between different people. Warnings about humans wrecking the ocean. Lots of teachable moments.
Lots of things to see, discern, digest and learn. Life lessons that entertain and may prepare kids for the new world. Cautionary tales parents should heed if they want to stay relevant.
Families looking for a PG movie that's as illuminating as it is fun will appreciate the joy, love and wisdom of this parable. An enlightening exploration of what might happen if people reached out, accepted others and didn't get left behind.
In theaters May 26th.
Visit NNPA News Wire Film Critic Dwight Brown at DwightBrownInk.com.