Dallas officials recently shared plans for a new park and multipurpose center to be built at Forest Audelia Village, to replace a section of the underutilized, city-owned shopping center located there.
The center will bring recreational options to a community where walkable access to programs and facilities are limited. Dallas Park and Recreation says the new green space will provide options for residents to focus on their health, socialize, enjoy the outdoors and encourage new business development in the area.
The first phase of the project will begin with the demolition of a section of an existing shopping center and portions of the parking lot at the current location as well as the outdoor space construction and renovation of approximately 10,000 square feet of the shopping center interior.
Officials expect this phase to be completed by the end of 2024.
In addition, renovations to the building interior will create spaces for cultural and leisure activities, a library, fitness area, community classrooms and a police storefront.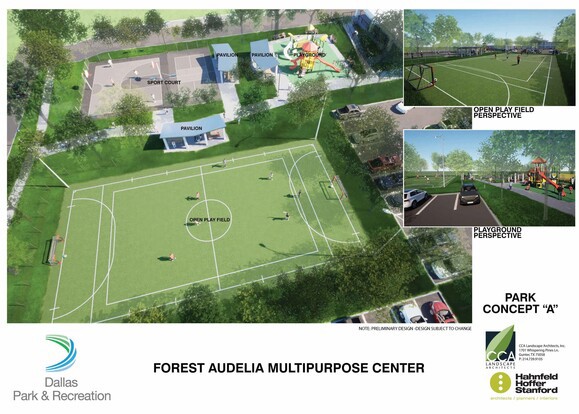 Despite light rain and mist, city leaders joined with the community for a ceremonial demolition at the future park site. Those giving remarks included Adam McGough, Dallas City Council, District 10; Kathy Stewart, Dallas City Councilmember-Elect District 10; Arun Agarwal, President, Dallas Park and Recreation Board; Scott Goldstein, Dallas Park and Recreation Board District 10; Robb Stewart, former member, Dallas Park and Recreation Board; and Andrew "Andy" Acord, Retired Deputy Chief Dallas Police.
While the event did not feature a live demolition, attendees had a chance to see the actual construction equipment and renderings of the park and building renovations.
"Forest and Audelia will be an example of what our city can do to partner first with the community and then with other partners to transform an area," said McGough. "We have focused years of attention and resources, and now is the time for the city to step up and serve this community. This area should be a destination that people come from all around to play, learn and be safe. I am deeply grateful to have played a role in this progress, and I can't wait to see what happens next."
"Soon, this block will be transformed into a new green space and community center that represents a new lease on life for this community and for its residents. This park will be more than the land where it sits. It will be a pathway to this community's happiness, health, well-being, social interaction, pride, economy, and much, much more. It will be essential to vibrant, thriving communities," said Agarwal.
The one-acre park will sit on the southern end of the site facing Forest Lane and feature a playground, multi-use sport courts, pavilions, landscaping, and trees. The building renovation will create a lobby area, fitness/exercise room, group exercise room, classrooms, child area and space for four city departments: Dallas Public Library, Office of Arts and Culture, Dallas Police, and Dallas Park and Recreation.
"Our department is thrilled we can bring recreation options to this community so families can feel a sense of community that parks and public spaces create when they come together. Parks and recreational activities transform lives. Dallas is tearing down a section of this underused shopping center to build something new that will bring much-needed leisure and social infrastructure to this community," said Crystal R. Ross, Deputy Director, Dallas Park and Recreation Department.
Park officials said the cost to build the park is $1.9 million while the renovations will cost $5.6 million. Funding will be provided by the Skillman Corridor Tax Increment Financing District funds, the City of Dallas, and monies from the 2017 bond program.
Dallas Park and Recreation is to share additional details and timelines about the project.