The City of Carrollton and its partners broke ground on EVIVA Trinity Mills, a five-story mixed-use blend of residential and retail/restaurant spaces within the vibrant and sustainable urban development at Trinity Mills Station.
EVIVA Trinity Mills is an important part of a 25-acre Transit-Oriented Development (TOD) made possible through a public/private partnership between the City of Carrollton, Dallas Area Rapid Transit (DART), The Integral Group developers, and Koa Partners. The building will feature more than 430 multi-family units and live/work spaces.
"This is the third monumental milestone of the catalyst Phase I development," Carrollton Urban Development Director Ravi Shah said. "The first milestone was the approval in April 2020 for a 125,000-square foot, six-story class A office structure to serve as the marquee building within the new development; and the second was the three-acre green park esplanade"
Approved in December 2020 and now complete, the esplanade runs the length of the property and comprises the area between the Class A office buildings on the north side of the development and EVIVA's retail offerings and luxury apartment homes to the south.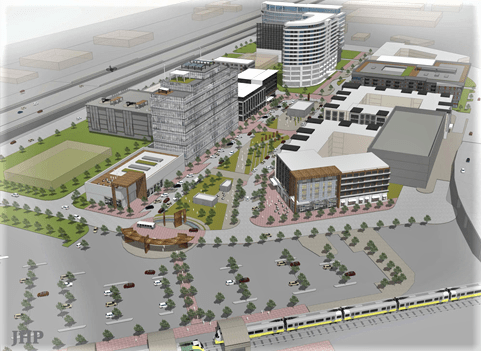 Shah said EVIVA Trinity Mills will continue the City of Carrollton's and DART's objectives to create a sustainable, vibrant, livable mixed-use district with a variety of high-density residential, office, and retail uses along with a central public space while incorporating enhanced pedestrian amenities and supporting transit ridership. The billion-dollar live/work/play environment will eventually grow from the Phase 1 25-acre TOD to a 300-acre hub for DFW.
"Trinity Mills Station is the largest publicly owned transit-oriented development site in North Texas and the most connected," Carrollton Mayor Steve Babick said. "It is also the only transfer hub in the DFW Metroplex connecting the Denton County Transportation Authority (DCTA) A-Train commuter service to Denton and the DART Green Line light rail service to Dallas."
Located at the southeast quadrant of the President George Bush Turnpike and IH-35E interchange, Babick said this premier development area has high visibility and the potential to be a gateway to Carrollton for not only the east-west traffic from PGBT, but also north-south commuters from IH-35E. Highway and rail connections to Dallas Love Field and DFW International Airports can be made within 20 minutes, and DART's Silver Line Regional Rail will be one stop away when completed in late 2025 to mid-2026.
"Every aspect of Trinity Mills Station is designed with meticulous attention to detail," Babick said. "The quality partnerships forged here are what ensure its success and continue to make Carrollton the community that families and businesses want to call home."
For more information on Trinity Mills Station, visit trinitymillsstation.com. For information about the Trinity Mills Transit District development and links to the Phase I site plan, visit carrolltontxdevelopment.com.