Centre for Diagnostic & Cosmetic Dentistry recently held a ribbon cutting event to celebrate the opening of its new offices in the Frisco community. The event was hosted by the Collin County Black Chamber of Commerce, of which Dr. Regina Powe is a member.
Dr. Powe has been serving the Frisco community, providing exceptional dental care since 1992. As a generational practice, the staff sees patients from grandparents all the way down to little ones, and they are committed to deepening individual and community relationships as they help people in the community with their smiles. Dr. Powe's passion is for creating beautiful smiles that can transform both feelings and appearance through comprehensive cosmetic, restorative, and preventive dental care.
The first-born child of a wonderful military family, Dr. Powe's beginnings set her up for a life based on discipline and adventure. "I changed schools often, which made my education paramount to my parents. They made sure my two brothers and myself considered learning our primary focus, so I loved learning. I am so thankful to them for instilling that craving for knowledge.
"Adventure, adventure, adventure! Changing schools often as a child forced me to make the best of always being the 'new girl.' Getting to know my new surroundings and learning the local culture made it easier to fit in and develop a true love for people. It has been said that I never 'meet a stranger.'
"We want to know our patients and their families. That knowledge really makes a difference as we take the scientific information we gather from our clinical exams and apply it to the patients we treat.
"Our patients are more than just a financial commodity. Lifelong relationships are what we are working to achieve. Seeing our patients enjoy beautiful, healthy smiles is how we measure our success. That is the greatest adventure imaginable!"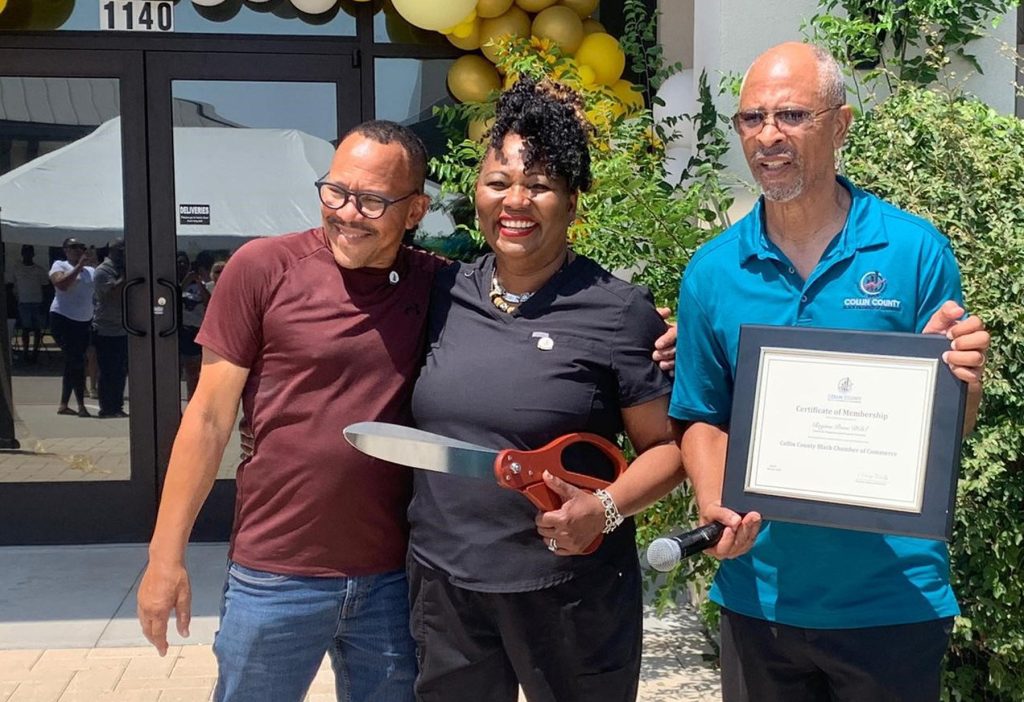 Dr. Powe says she considers it a privilege to participate in continuing education and always enjoys more than what is required for continuing education. As a member of the American and Texas Dental Associations, the American Academy of Dental Sleep Medicine, the Academy of Laser Dentistry and the American Academy of Dental Implantology with completing qualifications as fellow in 2022, she also belongs to the local North Texas Dental Society and the Junior League of Collin County. These organizations, along with the Academy of General Dentistry, for which she completed fellow qualifications in 2022, encourage and support her team's constant love for learning.
"My parents gave me the tools to approach my personal environment, but it was my education that gave me the tools to manipulate my world, she states on her website," she states on her website.
Graduating second in her high school class, Dr. Powe grew up mainly in the beautiful town of Natchitoches, Louisiana, a historic settlement and the oldest part of the Louisiana Purchase. There, she was awarded a full academic and athletic scholarship to Northwestern State University, where she graduated with honors with a major in zoology and a minor in chemistry.
At Baylor College of Dentistry (now Texas A&M College of Dentistry) in Dallas, she completed her education, where she had the unbelievable opportunity to establish the first research lab for pediatric graduate students at that dental school. "From that achievement, I was hooked on the science involved in treating human teeth," she said.
"My world expanded with the awesome experiences of treating dental disease and restoring beautiful smiles. I am still amazed by that blessing even over 25 years later and thousands of smiles later."
Her practice of dentistry has been a team effort, starting with the best support system ever in her husband of over 38 years. Despite working full-time and being extremely involved in the North Dallas and Collin County communities, he has helped with every aspect of her practice, she said, while also helping to raise their two daughters, Mandi and Morgan. A member of Amity Bible Church, Omega Psi Phi Fraternity, and a part of several local choirs and orchestras, her husband supports her participation in their church, in Delta Sigma Theta Sorority, Inc., and in the local community.
Dr. Powe's team has enjoyed being on the front lines as the dental industry has evolved, while equipping their offices with "state-of-the- art" digital equipment so their patients lack nothing that dentistry has to offer. "Dentistry is fascinating, practical and advancing at rocket speed. I love the patients, the science and the opportunities to serve," she states.