Ten years, 850 interns, thousands of interviews and countless connections made. Those were just a few of the stats shared earlier today as the Plano Mayor's Summer Internship Program celebrated its 10th year.
At the center of today's event were 70-plus Plano teens who will soon complete paid internships at national business headquarters, top tech firms, hospitals, hotels, nonprofits and other sought-after spots. Other honorees included Capital One who has served as presenting sponsor of the initiative since its launch in 2014.
To commemorate and reflect on the milestone year, Plano Mayor John Muns and a packed room of more than 250 interns, alums, employers, sponsors and community leaders gathered for a luncheon today at the Plano Event Center.
The event featured keynote speaker R. Gerald Turner, president of SMU, who shared sage advice and offered encouragement to interns. Plus, Capital One marked the 10th year by surprising five interns with $2,000 scholarships.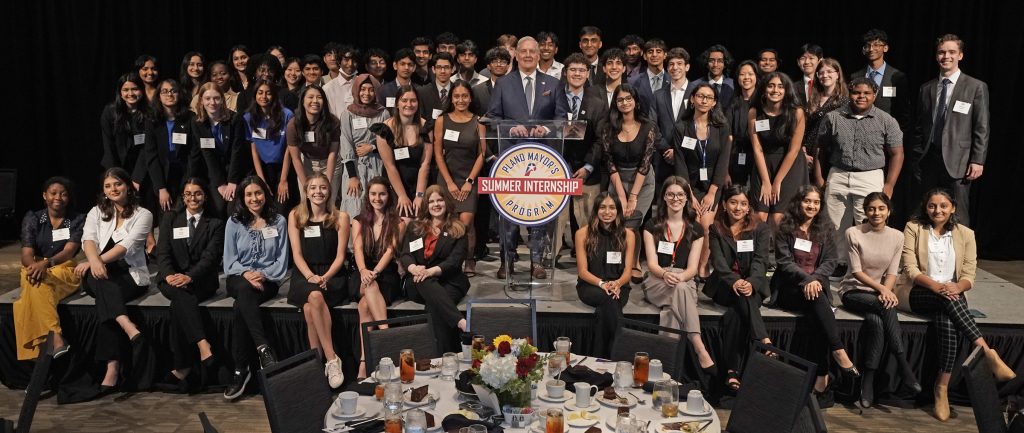 In addition, three alumni of the program joined Mayor Muns for a catch-up conversation on life since their high school internships. They were Mariane Sanchez, who interned at McAfee and the City of Plano and recently graduated from the University of Texas at Arlington with a bachelor in computer engineering; Mackenzie Boylson, who interned at CBRE and recently graduated from the University of Oklahoma with a bachelor of science in geographic information systems and a minor in meteorology; and Jacob Roy who interned twice at JPMorgan Chase and now attends the University of Texas at Dallas, majoring in biology with a minor in public health. Roy is also on an accelerated master's program for a degree in public affairs/administration with plans to eventually attend medical school.
Mayor Muns noted that other interns have graduated with honors from Harvard, Yale, UT Austin and SMU, are teaching autistic students, working at startups, becoming software engineers at Google and excelling in cybertechnology. Some alumni have returned to Plano to pursue their careers.
"It's exciting to hear the amazing things our intern alumni have gone on to do. Their achievements are numerous and remarkable!" said Mayor Muns. "I also want to credit Capital One and my predecessor Mayor LaRosiliere for having the dream and vision to start this program a decade ago. I look forward to seeing even more success stories over the next 10 years."
The Plano Mayor's Summer Internship Program gives outstanding Plano public high school students an opportunity to gain real-world experience, combining Plano's vibrant business community with a nationally recognized school district. The eight-week program, which ran June 12 and continues through Aug. 4, gives rising juniors and seniors the opportunity to work 20- to 40-hour weeks earning a minimum of $12 per hour. To date, approximately 850 students have participated in summer internships.
This year 350 Plano public high school students applied, more than 200 qualified for the Job Fair and approximately 70 teens were placed in internships. Many interns are enrolled in Plano ISD's AVID (Advancement Via Individual Determination) program and are likely to be first-generation college students.
All qualifying students attended a virtual Internship Prep, a mandatory training day held virtually March 19 and a Job Fair on April 21. Once the interns were offered a job, they attended a full day of Intern Enrichment and Orientation where they learned about workforce training, business etiquette, communication and more.
For more information, please go to planomayorsinterns.org.