The City of Richardson and the CORE District have scheduled the annual "Light Up Lockwood" to take place Saturday, Sept. 16, 2023, from 6 to 10 p.m. at 510 Lockwood Drive, Richardson, 75080.
Light Up Lockwood is an outdoor community event that will culminate with a laser light show on the Lockwood neighborhood water tower in the heart of Richardson's eclectic CORE District, a thriving entertainment and cultural center, that includes the Chinatown, Downtown, Heights, Interurban and Lockwood neighborhoods.
For the second year, the now annual event will showcase a newly reimagined and customized laser light show featuring exciting choreography and an accompanying performance by the Richardson Symphony Orchestra to fully highlight the event's festivities and the City's rich community spirit. Parking and admission are free.
Home to many independently owned and operated businesses, the CORE district event will serve a variety of local culinary options, drinks, shopping, and live entertainment.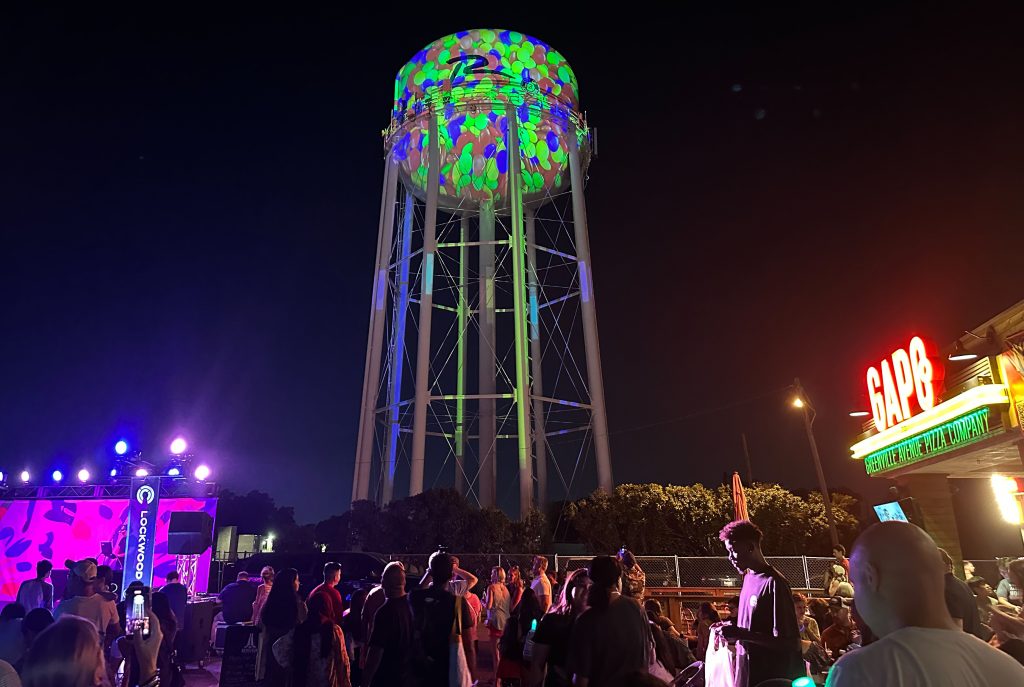 Popular Lockwood vendors Communion Neighborhood Cooperative, Lockwood Distilling Co., Greenville Avenue Pizza Co., Monkey King Noodle Company, the House of Saint Anita, Lizzie Bee's Flower Shoppe and Happy Hippie Brewing Co. will all be offering a selection of food and drinks for guests to purchase. Attendees can also expect an exhibit from Envision Richardson, a community-wide engagement process to solicit feedback from people on what Richardson's future growth should look like.
"Our Light Up Lockwood Event is growing and becoming one of our many annual events that makes the CORE and the City of Richardson a true family destination," said Richardson Mayor Bob Dubey. "This is our second year to hold this event, and we hope to see our residents and neighbors across North Texas come and enjoy the CORE and its top-notch restaurants, shops, and entertainment."
Also new this year, the City has engaged Event Southwest (ESW), a Dallas-based consulting agency specializing in public events, to manage Light Up Lockwood and future CORE District events. ESW has safely and successfully hosted over 2 million guests at its client events. The company operates other prominent events locally and regionally, such as the Dallas Marathon, Dallas Dia De Los Muertos, the Chevron Houston Marathon, the Oklahoma City Memorial Marathon and the Texas Distance Challenge.
Parking will be available at lots around 510 Lockwood Drive. For parking and event maps, and to learn more about Light Up Lockwood, visit https://www.richardsoncoredistrict.com/events.
Lockwood is the newest addition to The CORE District, featuring several adaptive reuse projects that have transformed a once forgotten retail center into a booming social hotspot. This new trendy street features excellent food, coffee, modern co-working space, art shows and Richardson's first and only distillery.
The CORE District is home to: DFW Chinatown, a regionally recognized major food, retail and cultural event destination; Lockwood Drive and its on-trend offerings including diverse food options, unique coffee shops, a modern co-working space, art shows and Richardson's first and only distillery; and Richardson Heights, home to Dallas-Fort Worth's first location of the Austin-based Alamo Drafthouse.
To learn more, please visit www.richardsoncoredistrict.com.