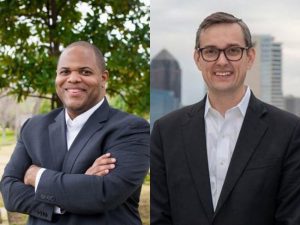 Straight Talk with Ed Gray, NDG Senior Columnist
The Dallas Mayoral runoff election of June 8  offers us a choice between State Representative Eric Johnson and City Councilman Scott Griggs. I give no endorsement but offer common sense. In the African American community, it appears  Eric Johnson has strong support in the community, however, will African-Americans confirm their support at the ballot box?
Representative Johnson offers his experience as a State Representative to enhance Dallas.  City Councilman Scott Griggs, likewise, offers his experience as a Dallas Councilman as a reason to vote for him. Frankly, this election is a tossup.
In an unusual switch, the black candidate is the establishment candidate, and the white candidate is the outsider. Have black politicians finally arrived? There is no doubting Representative Johnson is qualified. However, the question is not Johnson's qualifications, but rather can the black community receive increased economic parity with the election of an African-American mayor?
This is not about white or black, it's about green. Whoever is elected, and yes the winner will come from the south of Trinity River, he must address the economic disparities separating north Dallas from south Dallas.  Despite the election of any of these candidates, they must overcome the political culture that has left Southern Dallas relegated to a colonial outpost for the North Dallas political power structure.
We must look at gentrification, as the way developers seize cheap land of the colonized people of the "southern sector." Keep in mind colonies have two things that lead to their economic oppression, cheap land, and an exploitable workforce.
One election cannot remake Dallas, it does not matter, whether Scott Griggs or Eric Johnson is elected. If you have no grocery stores because you live in a food desert, or there is no adequate public transportation to get to the jobs outside of your neighborhood, then this election may not be for you and more likely you will stay home.
Symbolism, whether someone is black, or comes from the southern sector, just won't do for me. Because at the end of the day, if you lost your home to gentrification, or if there is no food in your part of the desert, this election is merely window dressing. Window dressing on a home that is no longer affordable.
These are the issues  Dallas needs to address for the long term and that's Straight Talk.
Ed Gray is a presidential scholar at Southern Methodist University. He is the host of The Commish Radio Show airing Saturdays 3-5 p.m. on FBRN.net, can be reached at eegray62@att.net. NDG was awarded NNPA's 2018 Robert S. Abbott Best Editorial for Gray's "Confederate Statues: The White Man's Burden" column.