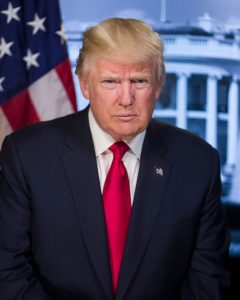 Straight Talk with Ed Gray
Yes, Donald Trump is a racist, but he is not the first one to live at 1600 Pennsylvania Avenue. Let's review a history lesson of White Supremacy tenants at the White House.
In my July 31 political commentary on WFAA television News 8, I posed the question about Trump. It was a question to which all African-Americans know the answer. It is the age-old question of survival. It is the question my generation's grandfathers asked for their survival, in navigating in a white supremacist society.
In the year 2019, it may as well as be 1919. The President of the United States is once again a white supremacist. Whether it is the white supremacist who occupied the White House in 1919, in the person of President Woodrow Wilson or the current occupant of the White House, Donald Trump. It is the year 2019, Black America is in trouble when white supremacy becomes the unofficial guidelines of contact.
To be a racist, you don't have to burn a cross in a yard. You don't have to yell Nigger. You just have to promote others to do it for you. In both cases, these presidents show that Klan sheets may be passé, but the actions of the Klan can be done by men in well-tailored suits, who live in White Houses.
America has changed – or has it? Can we compare today to the Red Summer of 1919 of lynchings during the administration of President Woodrow Wilson? That summer witnessed a record number of lynchings of African-Americans. Now we are facing a white backlash to the progress of the past ten years. We certainly don't have far to look to see who is igniting the fire of racism, he is at 1600 Pennsylvania Avenue.
President Trump may not be the Father of the nation, but he is the Father of the Birther movement. Their plot was to discredit President Barack Obama's heritage by claiming he was not born in the United States. The taunts to an African-American Congresswoman to go back to Africa, all a pattern of gross disrespect directed to people of color.
The disrespect he has shown to "The Squad," women of color who serve in Congress, is appalling. When does a President personally attack women? You couldn't find one until 45 was elected. The 45th President of the United States is an example of boorish behavior, not refined Republicanism, or for that matter American ideals.
The Republican Party and many African-American Republicans bear silent witness to the mental flogging of their sensibilities. They stand behind Trump as they recite the fact Frederick Douglas was a Republican of yesterday, and say nothing as the Exalted White Supremacist who lives today at the White House and burns crosses of disrespect and venom on their collective consciousness today.
Just when I thought Trump only disrespects women of color, he attacks a Black congressman, the esteemed Elijah Cummings. At least he is an equal opportunity hater. Trump's hate-filled condemnation of Congressman Cummings and the Black majority city Baltimore is unprecedented. It is unAmerican to slam a city or a people unless of course, a white supremacist like Donald Trump.
Trump likes to compare himself to President Andrew Jackson, who engaged in a type of ethnic cleansing. Jackson's "Indian Removal Act" also called the "Trail of Tears" made the South white. Trump, in his immigration policies directed toward brown asylum-seekers, "Makes America White Again."
Trump's attitudes towards political opponents of color are similar to Woodrow Wilson. They both extolled hatred toward people of color. The juvenile name-calling, and misspelled tweets make Trump appear to be ignorant, in comparison to the professorial, genteel white supremacist of Wilson. However, whether you are Trump or a college professor like Dr. Woodrow Wilson, there is no place for bigotry in the White House.
Wilson's two-volume book, "A History of the American People," was used as an inspiration to filmmaker D.W. Griffith who quoted Wilson in his 1915 silent film, The Birth of a Nation.
"The white men were roused by a mere instinct of self-preservation until at last there had sprung into existence a great Ku Klux Klan, to protect the Southern country."
That was Woodrow Wilson, and now this is Donald Trump. Their worldview is not white sheets, but white supremacy.
I am Ed Gray, and this is straight talk.  
Ed Gray is a presidential scholar at Southern Methodist University. He is the host of The Commish Radio Show airing Saturdays 3-5 p.m. on FBRN.net, can be reached at eegray62@att.net. NDG was awarded NNPA's 2018 Robert S. Abbott Best Editorial for Gray's "Confederate Statues: The White Man's Burden" column.